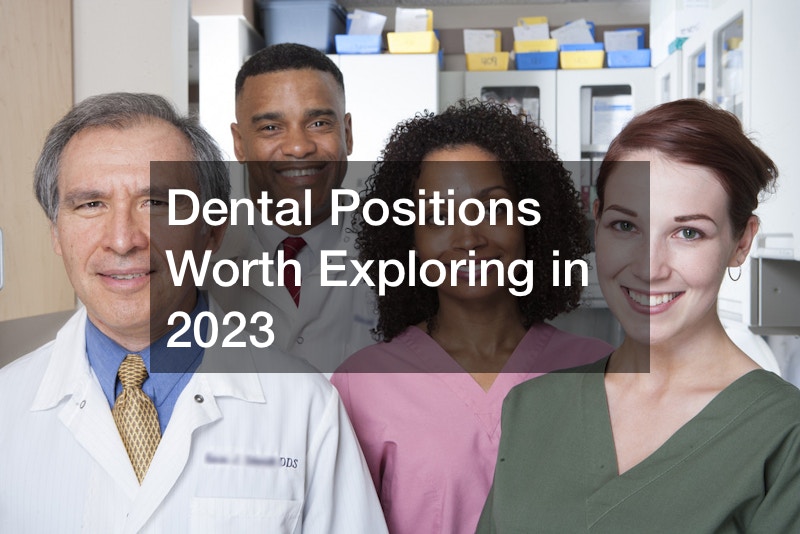 As long as we have teeth, dental care will always be needed. Unlike other job opportunities, dentistry is a field constantly in demand. The dental industry integrates careers that provide treatment and care for conditions affecting teeth, mouth, and gums. Follow the article as we explore dental positions worth in 2023.
Dental Industry Statistics
The dental market in the United States is on the verge of rapid growth. Stats on the dental industry can help us comprehend what to expect in 2023. In 2022, dentistry was a $172 billion industry comprising dental surgery, cosmetic dentistry, orthodontics, and periodontics.
Experts predict that the industry will continue to grow at a compound annual growth rate of 6.24% through 2027. Hence, if you wish to pursue a dentistry career, you can be guaranteed of opportunities. Now, let's look at some of the in-demand career paths available in the dental field!
Considerable Dental Positions in 2023
Numerous dental field careers can appeal to those who enjoy providing dental care. Dental jobs range from lab technicians to office managers, dental hygienists, and dentists. These positions come with varying duties and qualifications. Here are some ideal dental career path you can consider:
General Dentists
A dentist is a medical practitioner practicing oral health. Typically, dentists diagnose, analyze, and treat teeth and gum issues. Dentists perform cavity filling, remove teeth, install permanent crowns, and perform oral surgery to ensure patients have healthy gums and prevent tooth decay. Dentists perform procedures to repair teeth and can also undertake cosmetic dental services such as porcelain dental veneers and tooth whitening.
Dentists provide preventive and cosmetic treatment for teeth. They perform regular examinations and cleanings to prevent tooth conditions caused by poor habits. Dentists perform oral examinations, analyze X-rays for problems, and develop treatment plans to promote preventive measures.
The dentists office application requires you to have a bachelor's degree from an accredited dental school. A dentist must also pass a clinical and written exam to acquire a license. Upon completion, dentists can have an average salary of $183,235 annually.
Dental Hygienist
A dental hygienist is a licensed dental professional working in a dentist's office. They work alongside licensed dentists to provide preventive oral healthcare. Dental hygienists offer other preliminary dental services like overseeing patients on dental care and educating how to care for teeth/ gum properly.
As dental hygienists, you'll perform maintenance cleaning, take x-rays, maintain patient health records, administer fluoride, and remove plaque from teeth. A dental hygienist's other duties include removing stitches, administering anesthesia during minor dental procedures, and sculpting filling materials to fill cavities.
Working as a dental hygienist requires you to comply with dental office application requirements. You must have completed a high school diploma and a dental hygiene degree from an accredited university. The average salary range is $85,000 per year.
Orthodontist
Orthodontists are dentists specializing in treating anomalies in the oral cavity and the misalignment of teeth and jaws. They diagnose, prevent, and treat overbites/ underbites. Invisalign orthodontist treats gaps and overcrowded teeth with wires, braces, retainers, and other corrective tools to promote patients' health in the mouth.
Orthodontists aim to straighten the patient's bite to allow eating, chewing, and speaking. They fit dental appliances and maintain treatment records. Additional duties include analyzing X-ray images of the teeth, developing treatment plans, and reviewing patients' dental histories.
Dental office application for orthodontist requires you to be a graduate of an accredited dental school. You'll also require a certification in orthodontics. Upon compliance and licensure, dentists in the orthodontist position can earn $260,000 up to $373,500 annually.
Dental Ceramist
Dental ceramists practice making dental ceramics and dental prosthetics such as bridges, dental implants, porcelain, and ceramic crowns. Generally, dental ceramists fill prescriptions for specially ordered dental materials. They supply dental ceramics using equipment in a dental lab. Being a dental ceramist is rewarding as your work makes people proud of their smile. You can earn about $62,000 in this position, up to $97,000 yearly.
Endodontist
Endodontists are dentists who practice diagnosing and treating tooth pain resulting from a problem in the tooth pulp. Endodontists perform root canals to save and restore the teeth instead of removing and replacing the tooth. Upon completing a dental office application as required, you can earn a salary range of $249,000 up to $382,500 annually.
Prosthodontist
Prosthodontists are focused dentists who restore damaged and missing teeth. They educate patients on properly caring for their new teeth and oral devices. Prosthodontists perform oral examinations, diagnose tooth and mouth diseases, and perform procedures to install patients with dentures, crowns, dental bridges, dental implants, or veneers. The salary range for prosthodontists is $297,000 to $329,000 per year.
Periodontist
Periodontists are dentists who practice treating periodontal diseases, gum disease, and gingivitis. They are professionals in oral inflammation and placing dental implants. Periodontists help patients with complex dental histories prevent conditions surrounding the jaw.
Periodontists are tasked to diagnose and treat severe gum problems. They perform dental surgery for placement, maintenance, and repair of dental implants to natural looking dentures. They provide preventive care, develop patient treatment plans, and perform tissue reductions.
A dental office application needs a periodontist to complete a bachelor's degree from an accredited dental school. Then, complete a residency program focusing on gum issues. You become a licensed periodontist upon passing clinical and written tests. Individuals in the periodontist position can earn an average salary of $223,031 annually.
Pediatric Dentist/ Pedodontist
A pediatric dentist pursues providing treatment for infants, children, teens, and patients with special needs. In addition, they focus on family dentistry by preventing oral issues through check-up care of teeth. The pediatric dentist diagnoses and treats oral health issues such as filling cavities, repairing fractured teeth, and installing dental crowns.
Pedodontists make the child feel comfortable, examine their teeth, and recommend preventive care techniques. Dental office application for a pedodontist position requires you to earn a bachelor's degree in sciences, complete dental school, and acquire a 2-year pediatric residency program. The salary range of a pediatric dentist is approximately $175,500 up to $320,500 annually.
Dentist Private Practice
Private practice dentists provide oral health services to patients in a private setting. The dentist in these positions is tasked to diagnose and treat oral diseases and give healthcare advice to prevent cavities. Private practices offer pet dental care services such as conducting routine cleanings and check-ups.
A private practice dentist also performs administrative duties like training new employees and ensuring the business complies with laws. Private practice dentists can make $362,500 or $387,500 annually
.
Oral and Maxillofacial Surgeon
Surgeons in the oral and maxillofacial field diagnoses and treat patients with complex dental and jaw defects, facial tissues, and injuries to the mouth. Oral and maxillofacial surgeons are dental professionals specialized in performing oral and facial surgery. Patients get referred to these surgeons by their primary dentist.
The orthopedic surgeon handles issues such as correcting cleft palettes, reconstructing misaligned jaws, and installing dental implants. Their duties revolve around administering local anesthetics, evaluating X-rays, performing surgeries, and providing emergency treatment of injuries on the soft and hard tissues of the oral regions.
Oral and maxillofacial surgeons can also treat more severe issues like oral cancer and obstructive sleep apnea. They also remove damaged, non-restorable teeth. They can remove skin, nerves, bones, and tissues from other body parts to restore functionality to the face.
To attain a dental office application position as an oral and maxillofacial surgeon, you need to earn a bachelor's degree from an accredited dental school. Then, complete residency training taking 4-6 years. Upon licensing, surgeons can opt to work at a hospital or a dentist's office. Oral and maxillofacial surgeons have a salary range of $312,500 up to $400,000 annually.
Denture Technician/ Prosthodontics Technician
Denture technicians work in a laboratory setting to fabricate dental prosthetics. A denture technician can focus on the fabrication or repair of dentures. The technician uses plastics, metals, ceramics, and composite materials to create dentures with a mold of the patient's mouth.
Denture technicians can also create partial dentures that fasten onto existing teeth. They perform the task using welding, casting, and sanding tools. You can also use computer-aided design software. You can make your dental office application to earn $40,000 to $79,500 per year in this career.
Dental Assistant
Dental assistants work alongside dentists in providing oral care to patients. They assist dentists in performing procedures, treatments, and examinations. Their duties include preparing treatment rooms with tools and equipment and preparing patients for treatments by draping them. Dental assistants also sterilize tools, maintain patient records, provide patient education, ensure a clean and safe working environment, and maintain supply inventory in the dental office.
Dental office application for this position requires you to complete a dental assisting program via a community college, vocational school, dental school, or technical institute. The program takes nine to eleven months to complete. Then, the Commission on Dental Accreditation provides dental assistant accreditation. Upon accreditation, you can earn an average salary of $69,057 per year.
Dental Receptionist
A dental receptionist handles clerical duties and basic administrative tasks in dental offices. They handle roles such as answering phone calls, scheduling appointments, checking in patients, and maintaining the appearance of the dental front office desk. The dental receptionist is responsible for documenting treatment, updating patient records, and keeping patient data confidential.
A dental office application requires you to have a high school diploma to work as a medical receptionist. You need to know medical procedures and terminology. In addition, certification in office administration or medical administration can help secure the position. Medical receptionists earn an average salary of $38,967 yearly.
Transformative Dental Technologies for 2023
The dentistry field is finally catching up with the modern world. Technological advancement has led to emerging tech that can improve patient and staff experience. Some of the most exciting new digital technologies include:
2 CAD/ CAM Technology
Computer-aided design (CAD) and computer-aided manufacturing (CAM) technologies are advanced technologies in dentistry. The technology designs and fabricates complex restorations that fit and look better. With the integration of CAD and CAM, dental treatments that took weeks to complete can now be done in hours. Intraoral scanners and CAD/ CAM can be used together to reduce patient chair time while improving outcomes.
Intraoral Scanners
For a long time, dentists have been needed to take physical impressions to make dentures, implants, and orthodontic appliances. But with intraoral scanners, we can finally say goodbye to the uncomfortable, error-prone practice of mold impressions. The intraoral device scans a patient's oral cavity to create data from the patient's mouth. The scan then turns into a 3D digital dental model that can be used to create dental products. The intraoral scan is more accurate and comfortable.
Zirconia Crowns
The most common crowns are made of porcelain-fused-to-metal. However, non-metal replacements like zirconia are becoming superior in the modern world. Zirconia crowns are better in that;
They are stronger
Zirconia is malleable; hence, easily customizable
They are biocompatible, non-toxic, hypoallergenic, and metal-free
Laser Detection
Widespread fluoride strengthens enamel, making detecting early caries in X-rays difficult. Laser detection finds decay not visible through bitewing X-rays. Laser detection is painless and non-invasive; thus, it can help with early detection and provide more data and reliable measurements.
Digital Radiography
Traditional X-rays relied on film processing that was slow and costly. Digital radiography has advanced to rendering digital radiographic images on a computer screen. Dental professionals can take X-rays both intraorally and extraorally. Upon scanning, the file is then stored in a physical server for easier dissemination. Digital radiography is imperative in;
Easing file storage and transfer
Reducing exposure times
Providing immediate feedback
Improved detail and linearity
Real-time dental applications
Why Should I Work in the Dental Field?
The dental field provides rewarding opportunities to learn new skills and techniques, especially with modern technological advancements. You'll be able to engage with patients while helping them feel more comfortable in a medical setting that might cause discomfort. There's no doubt that dentistry is a fantastic career for the future. People will always need dentists, dental hygienists, and dental assistants to care for their oral health.
Most people are now prioritizing their oral health by seeking dentists' expertise. Therefore, a career in the dental field can provide fulfilling opportunities to help people maintain oral health. Above, we've pursued some of the most appealing and rewarding careers in the dental industry. If you meet the dental office application requirements, you can opt for any position you desire.