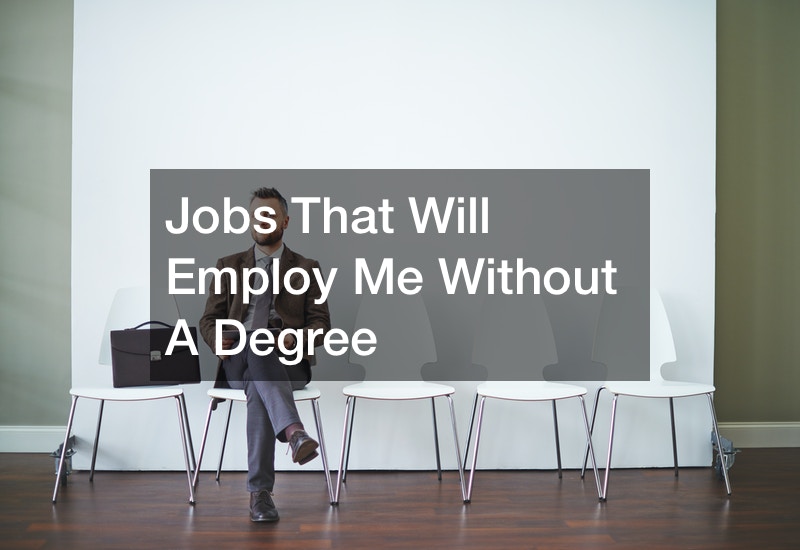 People face a lot of stigma for not going to school and getting a degree. The notion behind this is that job opportunities are tied to a great and strong educational background. In contrast, you are able to get a well-paying job without necessarily going to school and getting a degree. Young adults have been conditioned to believe that they must go to college and get a degree in order to be successful. This is perceived to be the conventional way of leading life. Below are jobs that you can do without necessarily having a degree.
Administrative Assistant
An administrative assistant's main duty is to offer administration services and support to people. As an administrative assistant, you will also need to take charge of research projects, prepare reports, schedule meetings, and communicate with clients. You can dispense your services to an entire organization, a particular department, or even to an individual. This is a clear indication that there are vast opportunities available for you to serve as an administrative assistant. You only need to perfect your organization and communication skills to get the job. A high school degree will suffice.
Firefighter
Firefighting is a lucrative career path for one to follow. Moreover, it provides you with a lot of fulfillment as you will be giving back to your community and rendering essential services that help salvage lots of resources and property. Firefighting requires thorough training to ensure that you are well equipped to extinguish hazardous fires and that you are able to save people from compromising situations. Further equipping yourself with emergency medical skills complements the firefighting job. It is also important to note that you need to exercise regularly to enhance your fitness, as you will need to handle heavy firefighting gear and equipment often. Apart from fire, you will also need to respond to other distress calls. Firefighters are among the first respondents to any emergency. Teamwork is a key component that ensures you lead a successful career as a firefighter.
Artist
If you are gifted and talented in any kind of craft, becoming an artist is the best path to follow. As an artist, you will get to express yourself freely and build your craft at the same time. Practice is an important part of becoming an artist because your skillset improves over time. It is a fun and fulfilling job, you get to reap a lot of income while at it. The career does not require any educational background. However, you may need to admit yourself to training institutions that will help you to perfect your craft.
Concrete polishers play an important role in the construction industry. Becoming a concrete polisher involves smoothening and finishing of freshly poured concrete, installation, maintenance, and the restoration of floors, ceilings, patios, and sidewalks. It also involves the waterproofing and restoration of concrete surfaces, application of hardening and sealing compounds to restore concrete surfaces. To become a concrete polisher, you require certification followed up with an apprenticeship program.
Plumbing
A plumber's job is quite practical. Therefore, you need to undergo a lot of training to enhance your performance index. The beauty of taking up plumbing as a career is that you get to define your terms of engagement, in the sense that you get to determine your hourly rate. It also provides you with flexibility, you may choose to work under a company or start up your own business individually. You can never run out of work, as people are in constant need of plumbing services. You also have the freedom to decide the number of hours you want to work, the more hours you put in at work translates to more income. If your service delivery is impeccable, over time you get to gain the trust of your clients. This means that you will get a lot of callbacks and even referrals, which also translates to more income. Besides, you can also use your plumbing skills to solve any plumbing issues in your household. You get to save a lot of money this way. You also get the opportunity to explore many places as you go about your business rather than spending most of your time in the office. Plumbing is an interesting job that kills monotony; it provides you with a lot of versatility.
Real Estate Agent
Have you always had a keen interest in selling houses? Becoming a real estate agent is your best bet. Real estate agents help people to buy and sell property. The profession provides you with a lot of flexibility. You do not need to operate within the conventional 9 to 5 schedule. You can set up meetings with prospective clients at your convenience. This increases your chances of making a sale. Most of your time will revolve around open house showings. You do not require a degree to become a real estate agent. Passion and drive will help you develop a niche in the real estate industry thus enhancing your success. It is also important to keep up with emerging trends to ensure that you are well informed at all times. Your sales skills should be on point to ensure that you are able to close profitable deals in a timely manner. However, you need to take up a licensing program to establish yourself as a certified real estate agent. This helps you gain the trust of your clients and even referrals. This career path provides you with endless opportunities and growth.
Contractor
A contractor earns a lot of money; you do not require a degree to venture into this. The best thing about being a contractor is that you get to have complete control over everything. This is important as it enhances job security. A contractor has the ability to determine and decide the path that his or her career takes. There are vast opportunities for contractors to take up. Therefore, you are assured that you will never run out of work. A contractor can take up interesting tasks that will help to sharpen the skill sets further. For instance, you may want to focus on commercial roofing as a professional commercial roofer contractor. You also get the opportunity of actualizing the dreams and visions of your client. Contracting exposes you to a lot of different tasks. Over time you get to equip yourself with several skills, which make you more marketable. You also get a lot of experience by engaging in different projects. For instance, building contractors take up different roles in the different projects that they are involved in.
Police Officer
Law enforcement is one of the most rewarding professions to take up without a degree. However, you must uphold high standards of integrity, commitment, and impeccable service provision. Your main duty as a police officer is to ensure that you are able to serve and protect the people. Therefore, collection of evidence, arresting lawbreakers, and handling dangerous situations are also part of the job description. However, it is important to note that the job comes with its fair share of challenges. You are susceptible to harm whenever you go to work. It is extremely fulfilling and satisfying to know that society is at peace and comfortable at all times thanks to your sacrifice and service delivery. In order to become a police officer, one should undergo intensive training to familiarize yourself with how to use a firearm and how to get a hold of dangerous situations. Police officers are well remunerated because of the high risks. You do not require a degree to become a police officer.
Electrician
An electrician is one of the common jobs that one can take up without necessarily having to go to college to get a degree. As an electrician, you can pick up flexible working hours and determine your hourly rate. The need for electricians in our day-to-day lives plays a major role in ensuring that everything runs seamlessly. The profession gives you the freedom to decide whether you will get to practice privately or work in an organization. Practicing the profession privately gives you the freedom to get involved in as many projects as you can handle, this provides you with multiple streams of income. A technical and complex profession requires you to have great analytical skills and the ability to identify problems at an early stage. You will also require the technical knowledge of operating complicated machinery such as industrial generators. It also gives you a lot of fulfillment as you encounter different challenges throughout the day. It also reduces monotony. You need to undergo a bit of training to ensure that you are able to deliver quality services. An electrician deals with powerlines, one slip up could ruin your life completely. Electricians also service and maintain commercial heating systems; heating repair is a complicated process. The profession allows you to work both privately or under an electricity company. You also gain the respect of society as you ensure that they continue to live comfortably. The profession also guarantees your job security.
Mechanic
Mechanics earn a lot of money and get a lot of fulfilment from their jobs. Apart from ensuring that your car is always running at its optimum, you can also use the skill to revamp old vehicles and later sell them ultimately making great profit margins. You may choose to open up your own garage if you have the resources or work under someone else as an employee. The profession allows you to work on the various parts of the car. For instance, over time you will be able to fix the car audio system. A professional diesel engine mechanic gets to perfect his skills through practice and guidance from mechanics with vast experience. The profession also provides you with a lot of interaction with clients, rather than being cooped up in the office. You get to earn more money in the garage through positive interactions with the client. It does not require you to have a degree. The job also enhances your mental capabilities and fitness. It requires great analytical and problem-solving skills. You will also find yourself involved in physical activities throughout the day as you handle heavy machinery. It also provides you with independence in terms of the flexibility of your schedule. You also get to decide where to set up your business; it should be in a location that provides your clients with convenience through accessibility.
Mover
Moreover, becoming a mover involves helping people or organizations transition from one place to another through the provision of moving service. People are looking for convenience and a smooth transition. The moving process is hectic and stressful. You should exploit this opportunity and ensure you get to benefit. The moving should be swift and seamless to ensure that it does not disrupt the normal functioning of the business or homeowners. Some of the services offered by movers include office cleaning, arrangement, packing, and unpacking.
Commercial Roofer
A bit of training and practice will help build your commercial roofing services. A commercial roofer has the capability of enhancing the aesthetic appeal of someone's house. Your responsibility will be to maintain and repair leaking roofs. The remodeling industry is ever-growing, this is important as it ascertains you of job security. People often take up remodeling projects to revamp and spruce up the appearance of their homes. The roof is a great starting point for any remodeling project as it is the first thing that your visitors see when they get to your place. You will also need to advise your clients accordingly on the steps to take to ensure that they get a roof that is sustainable, dependable, and durable.
Finally, you do not have to conform to what is termed as a conventional way of living life. Live without any limits or boundaries. Set the pace by doing what sets your soul on fire. Success is not defined by a college degree; you can land a well-paying job without a degree. School might not be your cup of tea after all. Determination, passion, and a bit of training will place you in a great position career-wise.