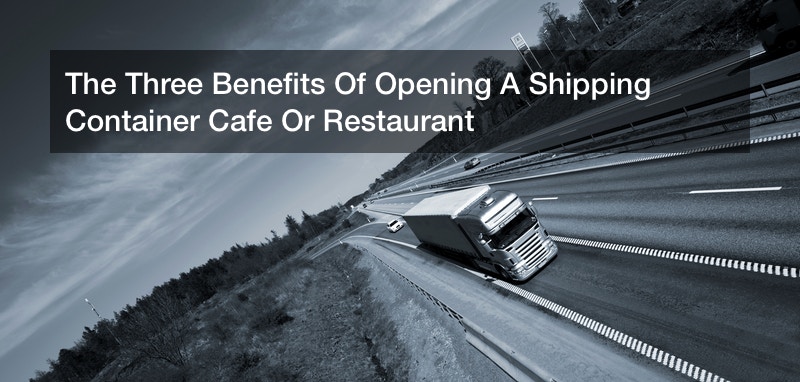 UPDATED 10/30/20
Shipping container cafes have started to grow in popularity, and it isn't hard to see why. It's possible that this trend was started by Starbucks when they opened their own container cafe in Washington in 2011. This was later followed by Taco Bell, who opened a similar set up in California, and since then more and more restaurants and cafes have been following suit.

Custom shipping containers offer a couple of significant benefits to those looking to open cafes and restaurants, a few of which can include:
Mobility. Because they are shipping containers, they can be easily moved from location to location. Modified shipping containers can be created to account for your mobility needs, and whether you plan on moving frequently or staying in one place for a longer period of time. They are highly adaptable and when in place require very minimal set up to get going.
Going Green. Opening a shipping container cafe or restaurant also has eco-friendly benefits when compared to traditional new constructions. Because you are resuing, you save via the additional materials that would have been needed to build a whole new structure. This also means you can get your business up and running quicker than if you had to wait for your location to be built. Overall, this option helps reduce waste and reuse the materials we already have. Now that is something anyone who's environmentally conscious can feel good about.
Unique Appeal. People love unique locations, and it doesn't get much better than shipping container cafes. Because they are so versatile, you can create a space that reflects your style, and the style you want your business to reflect. Customers will be drawn to the location out of sheer curiosity, and then they'll keep coming back after sampling your delicious food!
There are around 11 million shipping containers that are not in use around the world. While people are beginning to catch on to the benefits of using these containers as restaurants, cafes, and even studios, the trend is still relatively uncommon in many neighborhoods. This makes it the perfect time to get into the game and become one of the leaders in the trend.

Shipping container cafes and restaurants are not only great because of their versatility and uniqueness, but with the current push to go green, they are the perfect way to show customers that you value sustainability; that alone can be enough to bring customers in.

If you have been thinking about opening a restaurant or cafe, consider investing in a customized shipping container. With a unique location like that, you are sure to end up being the talk of the town!
People have been using shipping containers to set up shops. If you want to be one of those, all you need to do is choose a conducive environment for your business. The environment determines a lot the kind of business you can start. Once you have gotten the shipping container and established your business, it is time to focus on marketing. There are many ways through which you can deliver your products to the customers. Here is a question you need to ask yourself; do I need a shipping label? The answer is yes.
Not all your clients will be able to make it to the physical location of your business. You might also want to get a package from home. Your delivery services would help you get the package safely. Delivering products to customers is not all about packaging and sending them to the customer. You need to ensure that they reach the right customer on time. Therefore, you will need a cheap shipping label maker to create postage label. As a result, each of the parcels will reach the right customer, thus enhancing the customer satisfaction rate. The parcel pricing depends on the location where the parcel will be delivered to as well as its size.
Related Topics: container cafe for sale, drive thru shipping container, food shipping containers for sale, portable coffee shop for sale, portable restaurant buildings for sale, retail containers, shipping container bar conversion, shipping container kiosk, shipping containers for restaurants, used shipping container bar for sale, bar made from shipping containers, bar storage containers, cargo container food truck, conex bar, container cafe design, container cafe interior design, container cafe manufacturer in india, container coffee house, container kiosk, container retail store, container shop for sale.