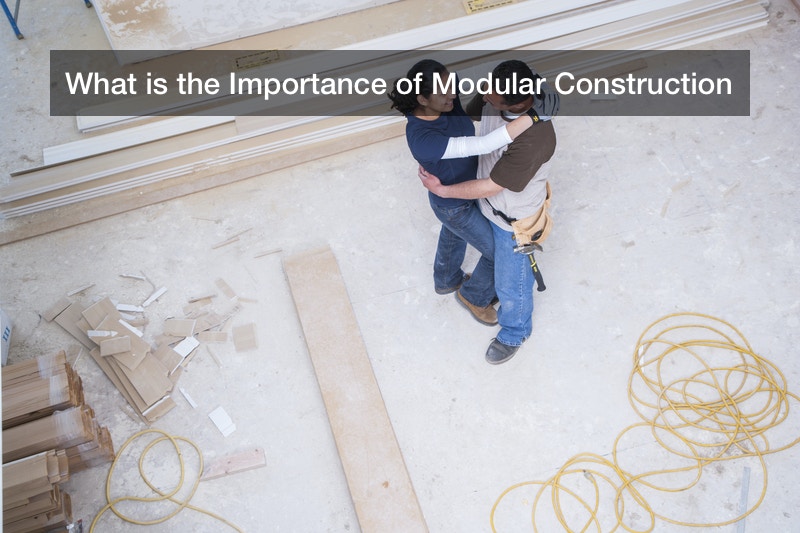 Modular buildings are gaining popularity in the construction field as home and business owners are opting for them. Modular construction involves the construction of sections off-site and then transferring the prefabricated buildings to the intended site. Two types of modular construction exist, and they include permanent and relocatable.
These two types of modular construction are similar because in both, the construction is done away from the intended site. However, they differ in the fact that relocatable buildings can be easily be moved from one intended location to another. On the other hand, permanent modular buildings are permanently put in the original intended site.
Modular office buildings are prevalent nowadays as many people who are embracing prefabricated buildings are in the commercial industry. In-plant offices are on the rise in many countries due to the advantages that they offer. Here are the benefits that modular office buildings have brought.
1. Quick to Construct
Getting an office space is the first priority of any business owner. Therefore, it is frustrating to wait for months to obtain one that suits the stipulations of your business. An in-plant office helps you get your business up and running as quickly as possible.
In-plant offices are easy to install, and you can customize it based on the available space. Gone are the days when business people used to wait for more extended periods to get an office space. Nowadays, within weeks, you have an office ready to be placed in your intended location.
2. Working Away From Noise
Not all businesses can be conducted in the city with all the noise. However, it is hard to get office spaces in quiet places because most of them are full of residences. Getting a modular office building will help you work in a convenient location that works for your business. Modular offices can fit in that ground floor space that no one is using. In-plant offices, save you from the distraction that is experienced from the first floor going up.
You can also put the prefabricated office in your backyard at home. This will allow you to work calmly without being distracted by kids in the living room. Manufacturers can opt for a modular warehouse office as it is a private place to go through the invoice.
3. Budget-Friendly
Renting offices or building permanent on-site offices is expensive. Modular office buildings are budget-friendly due to the short time of construction. This means that you will not pay for labor for longer periods. Also, you will buy the products in bulk, and this will save you the extra charges encountered in purchasing new equipment every day when you are building on-site.
4. It is Eco-Friendly
Prefabricated offices are built using sustainable and environmentally friendly materials. Also, the materials are purchased in bulk, and all of them are used. This means that the amount of waste is reduced. On-site buildings are not environmentally friendly with all the cement, woods, and paint cans left on the site.
Also, when need changes and you need to move the modular office building, you don't need to throw the materials. The building can be relocated, and the material will be reused to make your next prefabricated office. The whole building can be recycled when need be, which means that no material will go wasted.
5. Expansion Office space
Modular office building is easy to expand when you need extra space, especially when you have portable office walls. Moving a permanent wall is expensive and impossible when you are renting. Creating one big space from two rooms in a modular office building is easy, and thus expanding office space is quickly achieved.
Modular office buildings offer speed of business as you will have your business running on time. Prefabricated offices are of better quality as the materials used are durable, and thus the office will last long. You don't have to be worried about renovating the office every time. This guide helps you get an insight into the significance of getting a modular office building.