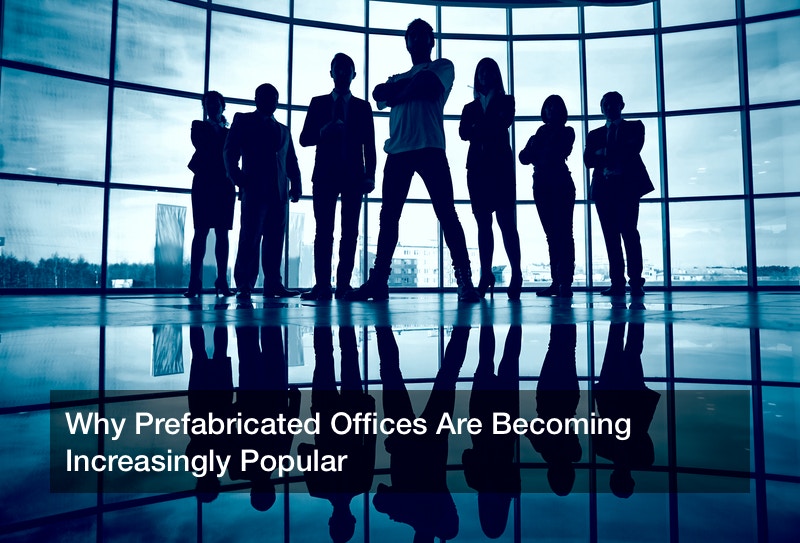 It is no secret that modular in-plant offices are an excellent alternative to traditional office spaces. Compared to standard office constructions, prefabricated offices offer eco-friend and budget-savvy solutions to most businesses. They are incredibly useful in maximizing every square inch of office space.
Are you looking to redesign your warehouse? Here are some benefits of using in-plant modular offices.
Easy to Put up and Pull Down
One of the advantages of a prefabricated office is the time required to set it up. These modular buildings within buildings require less time to construct compared to permanent offices. The structures don't require foundational support as permanent buildings and are thus less disruptive. Recent studies across the industry show that the process is up to 75% faster than traditional methods. Time taken depends on modular structure, design, and size.
Besides, the prefab office spaces are also easy to bring down. If your annual professional warehouse optimization report shows that the office is redundant, you can easily tear down the portable walls. With most materials being bio-degradable, they are also friendlier to the environment.
Easily Customizable
Modular warehouse offices are gaining popularity due to their versatility. These office spaces can be redesigned to the model of your choice. Are you thinking of erecting a new break room? There are thousands of pre-modeled designs to choose from. The portable office's walls freely interlock, creating a beautiful working area tailored to your needs.
The benefit with easy customization allows the office spaces to be used for different purposes. Some of the common uses for prefabricated offices include:
Management and staff offices.
Staff lunch and break rooms.
Conference rooms.
Quality Assurance and Testing rooms.
Whatever you plan to do with your warehouse office, a modular in-plant office can fit in.
Budget-Friendly
It's every business dream to be budget savvy and cut operational costs whenever possible. Acquiring a modular office space allows you to do so. Construction costs are down to 66% of the total project cost when compared to permanent buildings. You won't have to bring down your walls to create new entrances for the office spaces.
The in-plant office spaces come in handy when on a tight budget. They have low maintenance costs. They save on long term energy costs used for heating and cooling. The office space is shielded from harsh weather elements such as hails, high winds, or even UV light. It means that they experience minor wear and tear.
Additionally, most modular office spaces are classified as tangible property and not real property. You can enjoy significant tax savings while enjoying high-quality office spaces.
Saves up on Space
Prefab office buildings come in a variety of designs and sizes. The modular office can be set up on currently unused warehouse space. You can save on land space that would have otherwise been used to construct a permanent structure.
Even better, you can reassemble the office above your pallets with a custom stairway added. You don't have to build an unnecessary permanent structure next to your warehouse. But what if the business is booming and needs to expand the warehouse? The ease in disassembly of the in-plant modular offices allows you to relocate your office without disrupting workflow.
Increased Efficiency in Your Warehouse
Another benefit of modular warehouse offices is the efficient running if your warehouse. Most in-plant office designs allow for easier supervision for managers and supervisors. You can monitor the floor space with ease for the smooth running of your business.
Also, the erection of prefabricated offices doesn't disrupt the warehouse activities, as would have been the case in putting up permanent structures. The warehouse partitioning systems allow for designing of communal spaces that encourage employees to work together. What better way for your employees to relax than a break room at the corner of the modular warehouse office?
In Conclusion
Prefabricated office spaces provide for cheaper and more flexible designs than traditional permanent buildings. The modular offices are easily customizable and free up your unused land. Get an in-plant office for your warehouse today and reap of its benefits.