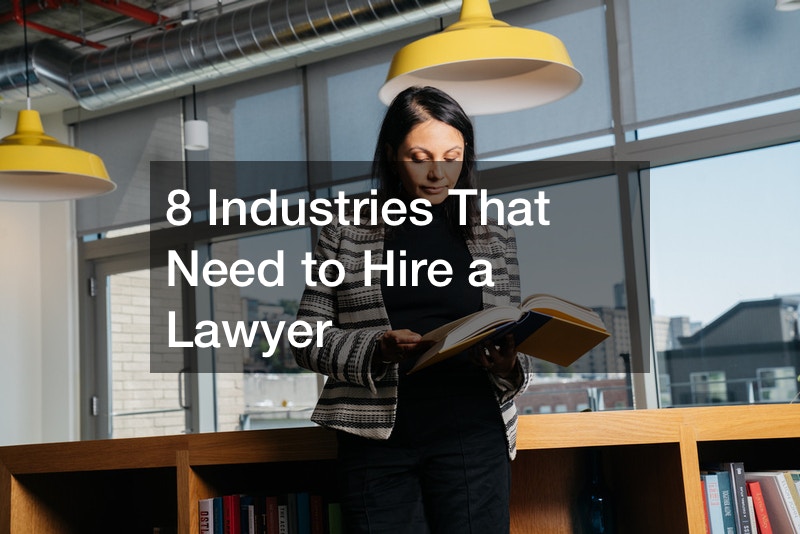 There are many moving parts to running a business, and one of them might involve hiring an attorney. Some businesses that operate in certain industries can choose whether to hire an attorney or not, while others have an essential need to hire an attorney. For these businesses, having an attorney at hand is crucial to their bottom line. The right attorney can be a valuable asset that provides the right kind of legal support during critical moments. This article explores the top eight industries that need to hire a lawyer, and it also looks at the top reasons why businesses need lawyers.
Why Do Businesses Need Lawyers?
Before you start searching for one, you might be wondering why your business needs to hire a lawyer in the first place. One of the top reasons why businesses need lawyers is because they need the expertise when faced with lawsuits or legal complications that can occur at any time. There are many benefits of establishing and building a relationship with a reputable lawyer early on. That means by the time you need their services, they'll already be familiar with the ins and outs of your business, so they can quickly respond to your needs and requirements. However, hiring an attorney is not always about dealing with expensive lawsuits.
The truth is there are many legal aspects of running a business, and the right lawyer can help you avoid mistakes that you might not even be aware you could potentially make. You can easily take advantage of the services offered by a competent attorney to avoid potential legal pitfalls that could cost your businesses a lot of money. Besides helping you avoid costly oversights, having a business law firm means you also have access to a network of professionals who provide specialized assistance for businesses like yours. Most lawyers are well-connected, and they'll know who to refer you to to get the help you need.
Types of Business Lawyers
There are different types of lawyers available to you depending on your needs and your reasons for hiring a lawyer. Below we look at the most common types of lawyers that you might consider when you need to hire a lawyer for your business.
General business lawyer. A general business lawyer is more flexible and offers a wider range of services. They are ideal for businesses that don't require specialized legal assistance and who need an expert that has basic knowledge of applicable legal disciplines. This gives you legal coverage for various scenarios that happen from day to day.
Employment and labor lawyer. As the title suggests, this type of attorney helps to ensure that your business is compliant with state and federal laws. Typically, an employment and labor lawyer offers services like helping you adhere to safety standards, drafting employee manuals, and helping you avoid legal pitfalls like wrongful terminations and workplace discrimination.
Tax Lawyer. Taxes are an unavoidable part of running a business, and a competent lawyer can help you navigate tricky situations where a tax authority is taking legal action against your business.
Corporate lawyer. Corporate lawyers are also known as merger and acquisition lawyers or MandA lawyers. They generally work with rapidly growing businesses and can help you negotiate the best deals to facilitate expansion. Corporate lawyers also specialize in drafting contracts and filing the required documents when selling or purchasing a business.
Intellectual property lawyer. An IP lawyer is your go-to professional if your business wants to register trademarks and patents. IP lawyers also specialize in handling copyright issues and will help you avoid violations or infringements on the IP concerns of other businesses.
Contract lawyer. A contract lawyer is there to help you draft highly customized business contracts for all occasions. Whether you need a sales contract, a licensing contract, a purchase order, a bill of sale, or a security agreement, a contract lawyer will ensure you don't end up with unwanted obligations and unnecessary financial losses.
These are the main types of business lawyers. Next, we will consider the top industries that need to hire a lawyer.
Senior Care Communities
Senior care communities, especially independent living communities, can benefit greatly from having a lawyer on their team. Even if you're just establishing your senior care facility, you might need help with choosing the right business structure and forming a legal entity. It's also important to be aware of the duty you have to provide adequate care for your patients and prevent patient injuries at your facility. Otherwise, this can expose you to all manner of expensive lawsuits. The right lawyer will help you make the necessary arrangements so that you can completely fulfill the duty you have towards your patients.
Such issues include ensuring that you have enough staff to care for the number of patients you have and that your staff is adequately trained to provide senior care. Otherwise, you may be held liable if you fail to prevent injuries or eliminate hazards on your premises or are found to be negligent in the care you provide to seniors. Sometimes, even the most well-run senior care communities can find themselves dealing with all sorts of allegations, such as medical malpractice, physical abuse, neglect, malnutrition, and financial exploitation. Having a lawyer on board can help you protect your business rights and reputation if you're in the right.
Manufacturing Companies
Whether you're starting a manufacturing company or already have an established business, having access to reliable legal advice can help you handle the challenges that are typically faced in this industry. Let's say that you're a manufacturing company that has recently started developing a range of holistic grain-free dog foods. In that case, it's important to enlist the help of an experienced attorney as early as possible during the development stage.
Access to legal services at this point will help you figure and iron out any potential liabilities and obstacles. It will also help you implement the best manufacturing practices to create products that reduce the risk of lawsuits. There are many legal issues that you may have to navigate, and you need an attorney that has the insights and experience needed to appropriately handle whatever legal issues you might face.
Service Companies
Today, there's an incredibly wide range of service companies. The list includes banks, repair companies, a drill pipe inspection company service, a media analysis service, airlines, consulting firms, and everything in between. Service products are different from manufacturing companies in that they don't sell physical products. Instead, they provide various services and engage with many different clients. Service companies often need to hire a lawyer for several reasons. A lawyer can help with choosing a suitable business structure, and they also help you draft contracts, avoid litigation, and simplify tax issues. Most services can now be offered online, and the right lawyer can assist with your online business.
Construction Companies
Construction lawyers specialize in building projects, and they are there to provide advice and recommendations based on their knowledge of construction law. They also have specialized knowledge of construction contracts, and they can help streamline your project and maximize its ROI. Construction lawyers work with various entities within the construction sphere, like design build firms, construction managers, suppliers, consultants, project managers, and head contractors.
It's recommended that you consult with a construction lawyer when working on a complicated or large-scale building project, whether it involves plumbing, welding, brick masonry, glass and mirror installation, or concrete. It's especially important to do so in instances where you need to file a lawsuit or are facing a lawsuit. Lawsuits have the potential to derail your projects, and they can also cost you a lot of money, so it's crucial to seek the best legal representation to ensure a more favorable outcome. Your lawyer can also help you protect your payments, deal with liens, review proposals, submit claims, interpret proposals, and close out projects.
Venue Companies
Venue companies specialize in providing flexible-use space that can be used to host a variety of events. They rent out space for use as wedding halls, flea markets, sports facilities, or more. The biggest risk that comes with running this type of business is that the unexpected or unfortunate can happen, and you can be held liable. There are many reasons why you might end up in legal hot water, such as discrimination and failure to fulfill your contractual obligations.
Therefore, it's necessary to hire a lawyer so they can help you identify the common risks your business faces and how to avoid or manage them. To avoid conflicts with your clients, your lawyer can help you draft and review client contracts to ensure there are no contract loopholes that can leave your business vulnerable to huge financial losses. At the same time, they'll help keep your contracts fair so that you can boost customer satisfaction.
Medical Services
Medical services include mental health care, dental care, addiction services, veterinarian services, and other types of healthcare organizations, such as clinics, hospitals, and medical offices. Regardless of the type of medical services you offer, it's crucial to hire a lawyer that can help you strictly follow applicable regulations, draft company policies and contracts, and handle any government investigations. It's quite common for businesses that provide medical services to face lawsuits.
In that case, you need an experienced legal expert to represent you in court and increase your chances of securing a positive outcome, and avoid paying large amounts of money. However, you don't only need to hire a lawyer when you need the best court representation. The right lawyer can assist you with the handling of crucial matters, such as compliance with the public health laws, employment laws, tax laws, and banking laws that apply to your business. Today, some medical organizations are solidifying their online presence.
For instance, if you run a veterinary business, you can hire a lawyer that has helped other professionals in your industry to launch their veterinary websites. The right lawyer can help you with the various legal aspects of launching such as site, including copyright issues, trademarks, tradenames, and antitrust issues.
Property Sales
Real estate and property sales are big businesses where large sums of cash exchange hands daily. Such large-sized transactions should be backed by rock-solid contracts, which is where a real estate lawyer comes in. When you're involved in property sales, it's a good idea to have a real estate attorney that can oversee these sales. They can help you thoroughly review sales contracts and communicate the terms and conditions of the sale in a highly professional manner that matches the strictest standards in your industry.
Even after the contract is signed, they can help you successfully close your deals without any setbacks. Too often, property sales are governed by various local, state, and federal laws, and you might not have all the knowledge to successfully navigate some of the complex processes. In that case, having a real estate lawyer on your team to review the paperwork and provide suitable legal guidance is a must.
The Bottom Line
These are the top reasons why businesses need to hire a lawyer. Even if your type of business is not included in the list, you may identify with these reasons to hire a lawyer or believe that a lawyer can help you avoid specific legal problems. In that case, there are several best practices to keep in mind when searching for the right lawyer for your business needs. For starters, it's essential to determine the exact services you need from an attorney.
Once you know the type of attorney you're looking for, you can narrow down your search by using your network or legal directories. Once you have a shortlist, you can compare attorneys by asking the right questions and considering factors such as qualifications, experience level, quality of customer service, and whether they fit your budget or not. Hiring the right lawyer might be crucial to the success of your business, and these tips will help you stay on track.