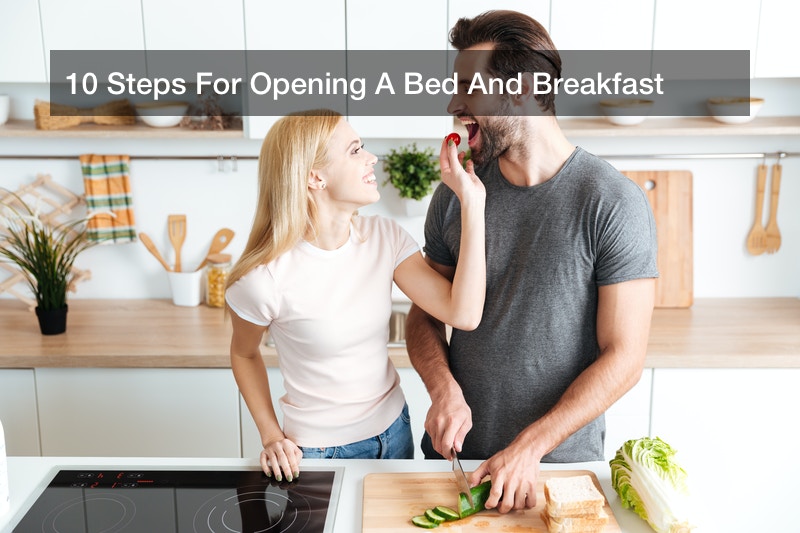 The bed and breakfast industry is seeing a surge in popularity. The Association of Lodging Professionals says the industry is worth $3.4 billion, and it's clear to see why. Bed and breakfasts are a place where people can escape from reality for a period of time. They help make trips memorable while helping guests feel happy and relaxed.
More people are traveling these days, and new websites like Airbnb make it easy to find ideal lodging. With these factors in mind, you may be planning on opening your own bed and breakfast. But how exactly do you do that? How do you even start the process of developing your self-owned business?
If you need some help with this, here's a simple 10-step guide for starting your own bed and breakfast.
Step 1: Create A Business Plan
The first step of opening a bed and breakfast, or any self-owned business, is to map out a business plan. A business plan is a document that maps out the details of the business. These details include an overview of the business, how you're going to finance the business, a market analysis, and a marketing and sales plan.
A large part of writing a business plan is doing research. It's important to analyze the market and prove that your bed and breakfast will be successful, especially if you're pitching to investors. A business plan is a crucial tool to have when starting and expanding your business. It should map out the details of the business from start to finish. Essentially, it's the ultimate guide to your bed and breakfast, complete with plans for its success.
Remember to pick a business plan that best articulates the goals of your self-owned business. There are numerous types of business plans you can craft, so be sure you choose the one that is best for your business.
Step 2: Research Financial Options
A big part of opening a bed and breakfast is getting the funds to do so. You could use the money you saved, or you could research different kinds of loans.
There are many factors to consider when looking into loans for your bed and breakfast. You must determine how much you'll need to borrow and what kind of loan best fits your needs. Common loans bed and breakfast entrepreneurs look into include small business loans, commercial loans, and SBA 7(A) loans.
Determining what kind of loan to take out depends on your buying situation. Will you be buying an existing structure, or building a new one? Are you looking to do renovation projects on an existing structure, like basement finishing or roof replacement? What kind of interest rates are you looking for? These are all factors in choosing the right loan for you and your business.
Step 3: Pick A Location
Location is an incredibly important detail to work out, especially when starting a self-owned business in the hospitality industry. The location of your bed and breakfast will play a big part in its success.
You should look to set up your bed and breakfast in an area that gets a lot of tourists. Think of places that have historical meaning, romantic or scenic areas, or places near college campuses. Areas near colleges get a lot of visitors for campus tours, special events and graduations, so they may be hidden markets worth exploring. Pay attention to when tourist areas are busiest, though. If an area gets a lot of tourists in the spring and summer, then business may be good throughout that time. However, you must plan how to keep the bed and breakfast afloat during the slower seasons.
Step 4: Find The Right Place
Once you decide where you want to establish your bed and breakfast, you must then find the right structure to purchase. There are many factors that go into this decision, including how much money you have, the kind of bed and breakfast you want to run, and its location. Before you look into buildings, picture the kind of bed and breakfast you want. Do you want a modern townhouse bed and breakfast close to the city? Or do you want a rustic two-story bed and breakfast set in the country? Make sure you have an image of your bed and breakfast in mind before you purchase a building.
It's also important to get clarification on zoning and permit laws while looking for a structure. If you're renovating an old house, you may need to obtain a commercial license and food permit to get your business going. These permits differ from state-to-state, and even city-to-city. To avoid any legal issues, determine what permits you need by talking to the appropriate local government agency.
Step 5: Choose A Theme
Once you purchase a place, you can decide on the theme of your bed and breakfast. Any self-owned business needs a brand, and the theme of your bed and breakfast will be a major influence on your business' brand. Your theme will largely depend on your bed and breakfast's location. Conduct research into the area and the tourists that visit. This will help you pick a theme that makes your bed and breakfast stand out from the others.
If you're in the middle of the country, tourists may not want to stay in a grand romantic hotel. Instead, they may want to stay in a rustic-chic farmhouse bed and breakfast. It's crucial to analyze the market and put yourself in your guests' shoes. If you were going on a trip to your area, where would you want to stay? What kind of place would make your trip more delightful and memorable? These are the important questions to ask if you want your self-owned business to thrive.
Step 6: Invest In Decor And Upgrades
Once you have your space and your theme picked out, you can officially get started on decorating your bed and breakfast. You can now think about details like what colors the walls should be, whether to have french doors or a regular door leading to the dining room, and what kind of furniture each room should get. Appearance and aesthetics are crucial to a successful bed and breakfast, so there needs to be serious thought and consideration in this stage of the process.
If you have the budget for it, you should also figure out what upgrades you can make to the bed and breakfast. These upgrades should improve the overall structure and create a better experience for your guests. Examples of these upgrades include a master suite renovation, the installation of new appliances, or even investing in larger beds for each room. An upgrade doesn't have to be massive in order to make a lasting impact.
If you aren't sure which projects should get priority, talk to a local contractor who knows the hospitality industry. They'll help you map out a timeline for each project and determine which ones should top your list. You may think the interior lighting should take priority, but the contractor may think it's a better idea to hire someone to perform expert installation on some new windows. It's always best to get a professional's opinion before you have anything done.
Step 7: Hire Your Staff
You have a self-owned business, but you will need a couple of extra hands to help run it. Part of the business plan for your bed and breakfast should include the staff you plan to hire.
A bed and breakfast require more staff than you may think. If it offers dining services, it needs kitchen staff and possibly servers. There's also the need for cleaning crews, landscapers, maintenance workers, and front desk attendants. If you don't want to run the books on your own, you may also want to consider hiring a bookkeeper.
Take the time to review quality candidates and bring them in for interviews. The applicant to hire ratio for the typical business is an estimated one hire for every 18 applicants in the United States. You will be incredibly busy once your bed and breakfast open, so you want to hire people you can trust to do their jobs. Anyone who can take some of the workloads off your shoulders should be considered in the hiring process. If you're strapped for cash in the beginning, hire only the essential people. Then, as your self-owned business grows, hire more people.
Step 8: Get All Your Supplies
A bed and breakfast require a lot of supplies. You need everyday toiletries for guests, extra bedding, cleaning supplies, cooking supplies, stationery, a front desk computer, etc. This list of supplies can be overwhelming to look at. There are so many supplies to get, but you may not have the budget for everything right away.
Break down your supply list even further by determining what you must have, and what you can postpone buying. Cleaning supplies, room essentials, food, and kitchen supplies should be on your must-have list, as well as office supplies like pens, paper, printers, and computers. These items are critical to your bed and breakfast's day-to-day operations and directly impact your guests' experiences. They should be prioritized on the supply list.
Step 9: Prepare Your Marketing Materials
Any self-owned business needs a powerful marketing plan. Once you have all the structural and operational needs of your bed and breakfast figured out, you can focus on creating a marketing plan that draws people in.
The first thing you should do is create a website. Every business has an online presence these days, so if you don't have a website, people may not see your business as legitimate. Your website should tell people about your bed and breakfast, show them how to book a room, feature the business' contact information, and feature pictures of the rooms. It should also include a section of customer reviews, which you can set up once you get your first reviews in. You should also consider creating social media profiles for your bed and breakfast. It will help establish your online presence and provide another channel for potential guests to follow you on.
Your marketing plan should also include traditional marketing tactics, like media outreach and direct mail advertising. You can reach out to a local travel website and pitch a story about your new bed and breakfast. Some bed and breakfast owners create leaflets about their place and ask local businesses to display them.
One marketing tactic that could set you apart from the rest is hosting an event. This can be an informational event, a charity event, or a holiday-themed event. People value experiences, and they'll remember how they felt while attending an event. Hosting a great event will show off your bed and breakfast and establish its presence in the community.
Step 10: Get Ready To Open For Business
You've put a ton of work into your self-owned business. Now, it's time to officially open! Before you open, double check that your bed and breakfast looks great. Check the flowers, the furniture, and even hire a tree trimming service if need be. You only get one shot at a first impression, so you want to impress your first guests right off the bat.
If you can, do something to show your first guests how much you appreciate their business. You could host a grand opening event or offer the first 10 people who book a room with you 30% off the normal rate. These kinds of gestures will make your guests feel special, and word will spread about how well you treat them.
If you haven't yet, now's the time to start listing rooms and promoting your bed and breakfast wherever you possibly can. The more bookings you get, the better. It may be hard to juggle at first, but it will become second nature before you know it.
Anyone with a self-owned business will tell you it's a lot of work, but if you love what you do then it's all worth it. Opening your own bed and breakfast will be full of challenges and triumphs. It will all be worth it, though, when you see the look on your guests' faces when they enter your bed and breakfast for the first time. You're contributing to their happiness by making their stay the best it can be. Happiness is the center of the hospitality industry. If you're focused on making your guests happy, your bed and breakfast will be thriving in no time.