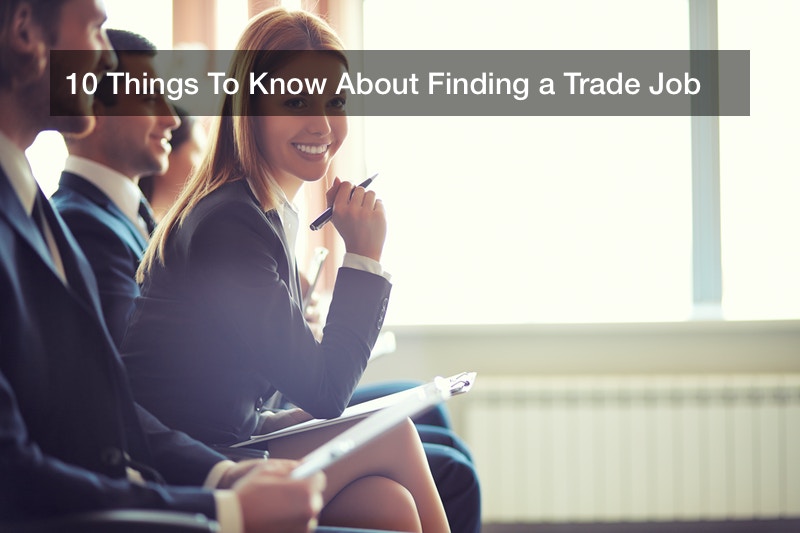 More and more workers are choosing to pursue a career in the trade industries these days. A trade job is a job that requires more hands-on training and skill-building through a program that isn't found in a typical four-year college program. Examples of a trade job include a plumber, crane operator, dental hygienist, and legal assistant. These jobs don't necessarily require a four-year degree, but still require a lot of training and skill development.
Landing a trade job can set you up for a promising career while also saving you time and money on your education. So, how can you find a trade job?
The Demand For Trade Jobs Is On The Rise
If you want to find a trade job, you likely won't have a hard time finding one. As older generations of workers in the trades continue to retire, more roles will be available for new trades workers. Over the last few years, there's been an increased need for trades workers, as many people continue to choose to pursue higher education instead of a trade school. That means the demand for workers is there, but there aren't enough workers to meet the demand.
There are a number of trade jobs in demand right now. Those jobs include HVAC maintenance technicians, licensed practical nurses, and tractor-trailer drivers. Many trades jobs are expected to grow in demand within the next 10 years, so if you're looking for a career that can provide job security, a trade job may be the perfect occupation for you.
Trade Jobs Can Provide A Comfortable Living
If you're looking for a job that provides a comfortable living, you can find a trade job that pays you a comfortable salary. A lot of trade jobs provide essential services to the public. Since what they do is essential for the public and businesses, they pay comfortable wages. An electrician, for example, electricians make an average of $55,190 per year in the United States. Depending on which state they live in and how experienced they are, that annual salary could rise. Construction managers can also make more than $70,000 per year, but they have a lot of responsibility on their shoulders. They make sure constructions projects run smoothly and oversee everything from budgets to window and door installation and equipment maintenance.
Depending on which trade you get into, you could make a good salary without having to attend college for years. Being a trades worker has its own challenges though, so keep that in mind as you're looking for trade jobs. The salary can be tempting, but remember that every job comes with its pros and cons.
Explore What You Want To Do
When looking to find a trade job, you have to ask yourself what exactly it is you want to do. Is there a trade job you find fulfilling? What can you picture yourself doing for the next 30 to 40 years? This can seem like a daunting task, but it's important to know what you want to go into.
You can start by eliminating the trade jobs you don't want to go into. If you don't want to work around plumbing or drains, then rule out becoming a plumber. If you don't like driving for long periods, rule out becoming a tractor-trailer driver. Knowing what you don't want will help you layout your options and determine what it is you do want to do.
One way to determine what trade job you want to pursue is to think of the hobbies you do already. If you enjoy building furniture, you could pursue carpentry. If you like working in the yard and making your lawn look beautiful, you could look into landscaping. If you like working with houses, consider garage door repair services. If it makes you happy, it's worth looking into to pursue as a trade career.
Education Programs May Not Take Long To Complete
If you're looking to find a trade job as soon as possible, you have to know that most trade jobs require some form of education. Luckily, this education can be pursued through trade school. Trade school is a school that prepares you for a career in the trades. Trade schools typically require a lot of hands-on training and teach you the skills you'll need to be successful in your trade job. To get into trade school, you need to have a high school diploma or a GED. Unlike public and private colleges, trade schools usually do not require you to send in SAT or ACT scores to be considered for admission.
Depending on your program, you can finish trade school within one to two years. Then, you can start working in the field you went to school for. Going to a trade school is a faster and less expensive way to start your career versus going to a four-year college to get your bachelor's. If you know you want to pursue a career in heating and cooling repair or a similar trade, trade school is an affordable and effective way to get training and get in the field faster.
Hands-On Experience Is Always A Plus
One of the perks of going to a trade school is that you'll get hands-on training throughout your program. This hands-on experience is important if you're trying to find a trade job. Your experience and your skills will play a big part in the hiring process, especially for niche trade jobs. If you want to do a job where water testing is one of your daily tasks, you should get as much hands-on experience with this skill as possible in trade school. The more experience and skills you have, the better your chances of moving forward with your job candidacy.
A good way to determine what skills you should develop in trade school is to look at job postings for the jobs you want and identify what skills keep coming up. Those skills that are repeated on job postings are ones you want to make sure you have once you're ready to look for a job.
The Interview Process May Be Different Than You Expect
Interviewing for a trade job may be different than what you expect. Do your research on what kinds of interview questions are asked for the job you're applying for. Your interviewer could ask you questions around your skills and experience, as well as questions about your ability to work in teams and what you'd do in certain situations. This is a mix of skill-based and behavioral interview questions, and it's important you practice how to answer both sets of questions correctly.
For example, if you're applying to a place that's hiring forklift contractors and you want the job, your interviewer may ask you to explain your experience and elaborate on your skills. They may also ask about a time you prevented or solved a problem. These questions are meant to evaluate your skills, experience, and ability to adapt in different situations. If you don't answer them properly, your chances of getting the job could be hindered. If you know someone who went through the hiring process for the job you want, reach out to them and ask what kinds of questions they got. This can help you prepare for your interview and have answers that make a great impression on interviewers.
Apprenticeships Get You In The Door
While some people choose to attend a trade school to learn new skills, others choose to do an apprenticeship. An apprenticeship is a program that allows people to learn skills through a combination of hands-on training and classroom learning. If you want to find a trade job, doing an apprenticeship is another way to build your skills and get your foot in the door at a company you want to work for one day. If you want to do water pump repair, you can see if there is an apprenticeship program where you can work and be educated at the same time.
Typically, you have to apply to the apprenticeship program of your choice in order to be considered. Depending on the industry you want to be in, you could be in an apprenticeship program for one to six years. You do get paid during an apprenticeship, but it may be lower than what you're expecting. Talk to the person in charge of running the apprenticeship program and get all the details ironed out before you commit. The more you know ahead of time, the better prepared you'll be during the whole process.
Certifications Can Help Advance Your Career
After you finish trade school, you'll get a certificate or a diploma that shows you completed your trade program. Typically, this is what you need to find a trade job. However, if you want to advance your career, you could get more certifications. Those in the medical field may have to get more certificates once they graduate trade school, so it's important to know exactly what you need to accomplish before applying to jobs.
Keep in mind that just because you can get certificates after attending trade school doesn't necessarily mean you should. If your dream career is to build custom gazebos and you got all the training you needed in trade school, then getting a post-trade school certificate may not be the best move for your career. It all depends on what your goals are and how quickly you want to achieve them.
Consider Joining A Union
Before you find a trade job, do your research on joining a union. A union is a group that legally acts as the middle man between its members and the company that hires the workers. Unions help workers negotiate pay, fair working conditions, and other benefits.
There are pros and cons to joining a union. A pro is that you'll have advocates who will push for better pay and better working conditions. This is especially beneficial for trade workers who may be contracted through an employer, such as roofing contractors. A con of joining a union is that you may have less independence in your career, as you unions tend to promote group thinking versus individual thinking. Also, if you join a union, you may have to pay fees and dues.
Do your research on unions and see what option works best for you. It may change over time, but you can cross that bridge when you come upon it. Don't let others pressure you into making a decision that doesn't have your best interest at heart.
Look For Ways To Upskill
Once you get a trade job, you may be satisfied for a year or two in your job. However, there may come a time where you want to upskill. Upskilling means you learn more skills and therefore become a more knowledgeable and valuable employee. If you work in roofing services, you could upskill by becoming certified to do roofing and home inspections. If you're an LPN, you could upskill by getting additional training for patient care.
If you are a plumber, it may be useful to also know how to perform sewer cleaning services or septic tank cleanings. Even if it isn't necessarily the highlight of your job, the more skills you bring to the table, the further you'll be able to advance your career. The Wall Street Journal reports that studies show 90% of employee training knowledge is lost if it is not followed up with regularly, which is another reason why you should always look for ways to upskill.
It's important to know all the things you need to do to find a trade job. It may seem like a lot at first, but it's worth it in the end. All the time you spend in trade school or an apprenticeship will set up a solid foundation for your career. Finding a trade job you love is a truly rewarding experience that can set you up for a fulfilling and comfortable life.