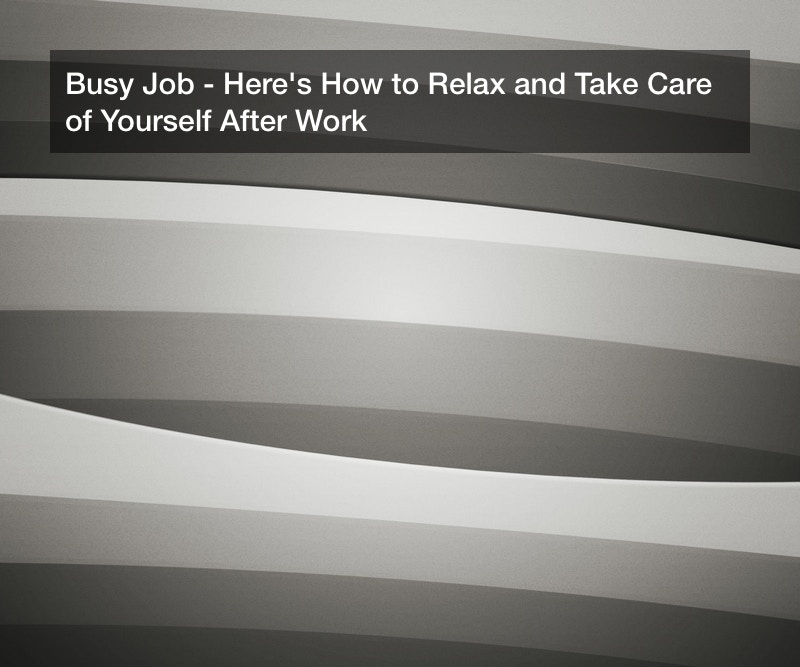 In the hustle and bustle of our busy everyday lives, we're all looking for ways to alleviate stress. After all, stress comes in many forms whether it's at work, in our social lives, or in our family lives.
As important as it is to work hard, our jobs can be one of the biggest sources of stress in our lives. Even if you love what you do, there's a good bet that not every day is peaches and cream. Sometimes, despite everything, you may find yourself more stressed than you'd like and struggling for ways to make it go away.
Prolonged stress at work isn't good and you risk facing burnout and wanting to find another job. According to the Bureau of Labor Statistics, in July 2013 alone, the quit rate for jobs in the United States was nearly two percent.
So what can you do to eliminate that stress? The answer is simple, find ways to relax after work. By relaxing, you'll avoid burnout at work and focus your attention on things you really enjoy doing. If you're wondering how you can best relax after work, here are some good suggestions:
Find a New Hobby
One of the best ways you can relax after your work day is done is to take up a new hobby. Depending on what your interests are, the possibilities can be endless.
Why do you need a hobby? For starters, it can be very enriching and bring you joy. Hobbies are fun and help you fill your time with things you enjoy rather than feeling like you work all the time. Let's face it: even the most dedicated and hardest workers need a break every now and then.
If you're looking for a new hobby to help relax after work, think about what your interests are or try something new. Hobbies are a great way to cultivate a social life, increase your confidence in yourself, and make you more interesting.
What kind of hobby should you pursue? Here are some possibilities.
Gardening
Traveling
Collecting
Hiking, biking, golfing, fishing, and other recreational sports
Dancing
Playing an instrument
Photography
Crafting
Baking or canning
Another hobby you can pursue is blogging. Let's say you love going to different restaurants and trying new food. You can start a blog and review different restaurants in your area. Depending on your tastes, you can review everything from a new pizza restaurant to which places in town serve the best burgers or chicken nachos. Every time you update your blog, you can easily share your posts with friends, family, and neighbors on social media.
Exercise
Another great way to relax after work is to unwind by exercising. Obviously exercise is a great way to get your body in shape. You can control your weight; you can significantly reduce your risk of heart disease; you can manage your insulin and blood sugar levels and you can generally just make yourself generally feel better.
But exercising can do a lot more than that. Exercise can do wonders for your mental health. As you exercise, your body releases chemicals that boost your mood and make you feel at ease. This allows you to better deal with life's stress and can help reduce your risk of depression.
How else can exercise help you relax after work? Exercise can help improve your sexual health and also help improve your sleep. Not only that, exercise can help keep you mentally sharp, improving your learning and thinking abilities as you get older.
One of the best things about exercise is that you can do as much or as little as you want or need to. You can also do whatever kind of exercise works best for you. If running is your cup of tea, you can go on long runs. If you're big into workout machines, you can head to your local gym. If you love swimming and you've got a backyard pool, you can enlist the help of local swimming pool services to get your pool ready for summer so you can swim laps in your pool.
If you're committed to fixing up your swimming pool, you can also work with swimming pool services to improve your home swimming pool design, so that your pool holds up during times of the year when it's not being used.
Make Wellness Appointments
It may not be your favorite way to relax after work, but one of the things you should absolutely do in your downtime is making wellness appointments for yourself.
Bottom line: it's always best to be proactive about your health and managing it. There's a lot to be said for having peace of mind and not being taken by surprise when you visit your general practitioner. If you've got health, dental, and vision insurance (perhaps through your job), then make use of it. If it's been a while since you got new glasses or contacts, visit the eye doctor and update your prescription. Odds are you'll see the difference right away.
The same thing goes for your teeth. Most dental insurance covers two cleanings a year, so make appointments for those or any other tooth problems you have.
Wellness appointments can also help you manage medical issues or conditions you may have. If you're looking for TMJ treatment, for example, a doctor can recommend a variety of remedies, including medications, corrective surgery, or even lifestyle changes you can make.
Going to the doctor or the dentist isn't always a fun activity, but it's a necessary thing that everyone should do. You don't want to compromise a thing when it comes to your health and by making appointments and monitoring your health, you can keep your health and your body in good shape.
Seek Out Relaxation
If you're looking for ways to relax after work, one of the best things you can do is just that: relax.
What does that mean for you? For some folks, it might mean visiting a local spa and getting a massage. If you deal with chronic pain or you feel like your body has been particularly achy, there's no better way to relax than booking an appointment with a massage therapist and letting them work their magic.
These days, there are any number of treatments the average massage therapist can offer you to help you relax. Your local spa and therapists can offer deep tissue massages, Swedish massage, shiatsu massage, aromatherapy massage, hot stone massages, Thai massages, and even massages for women who are pregnant or athletes who are recovering from injury. What's even better is if you enjoy the services of a particular massage therapist, you can book appointments with that person every time you go.
Whether you're on your feet all day at work or you're confined to a desk, there's a lot of wear and tear that happens to the body. This can affect your mood and even your job performance. If you're looking to feel better and more comfortable, a massage can do wonders.
Visit a Spa
Another good way to relax after work is to visit a medical clinic or a medspa center. If you don't know what a medspa is, it's essentially a cross between traditional medical clinics and a traditional spa. The cross allows visitors like you to get the best of both worlds; the medical expertise of a clinic with the relaxation of a spa.
If you've visited a spa before, you're in luck. At a medispa you can have a variety of non-invasive medical procedures performed by experienced medical professionals. Medispa are also results-driven, so if you need to have a procedure done, it's a good place to go.
You're probably wondering what kinds of procedures can be performed at such a spa and some of them include:
Acne treatments
Light treatments
Botox and other injection treatments
Salt glows
Anti-aging treatments
Hair removal treatments
Chemical peels
Facials
Massages
Seaweed wraps
Laser treatments
As demonstrated above, your local medical spa (or one nearby) can offer many different kinds of therapy that can make you feel better. Whether you're dealing with an acne problem or looking to look younger or trying to remove unsightly hair from intimate areas, a medspa can help. The great thing is not only can these spas offer a wide variety of surgeries and treatments, but they can be done quickly; sometimes as quickly as 30 minutes.
It's important to remember that the effectiveness of these spas really depends on the type of treatment you're seeking. Experienced therapists and doctors can help you in many ways with non-invasive work, but if you're dealing with more severe issues, it may be best to visit a specialist.
Treat Yourself
If you're really looking for a way to relax after work, sometimes the best thing to do is treat yourself. What does that mean? Treating yourself can mean anything and everything you want it to mean. If you want to enjoy breakfast in bed or allow yourself to sleep in an extra hour, by all means do so. If treating yourself means going out to a movie and then out to eat at your favorite restaurant, then do that too.
One important thing to note: treating yourself doesn't always have to equal spending money. There's nothing with buying yourself something now and then, but you might find joy and fulfillment in sleeping in, taking a hot bath, unwinding with a good book or catching up on some of your favorite Netflix shows.
Socialize
Another way to find joy and fulfillment while you relax after work is to spend some time socializing. This might be something as simple as going out for dinner and drinks with some co-workers at the end of the day or it might mean something more, like getting involved in a social club.
These days, you can find clubs for just about anything. If you're really passionate about volunteering, you can join a volunteer group. If religion plays an important role in your life, you can help out at your church after work. If you're hoping to be a mentor to children, you can spend time at your local Boys and Girls Club or your local YMCA to help young kids. The sky is the limit and if you're trying to find ways to spend your time wisely, there's nothing wrong with getting involved.
Learn a New Skill
There's nothing wrong with wanting to relax after work, but you can also use that time to learn new skills. Learning new skills helps enhance your experiences and might even improve your job performance. You might even find that your place of employment offers classes that will allow you to expand your skills.
What kinds of skills can you learn? The best answer is that it depends on what your interests are. You can learn coding and other types of computer skills. You can learn graphic design if you have a knack for being creative. You can also learn skills that help you at home, such as interior design and cooking.
These days you can find just about anything to learn online. You can sign up for classes at your local annex or you can always look to sites like YouTube to find tutorials on whatever skill you're hoping to add to your repertoire. Learning new skills might seem like a difficult task at first, but with patience and persistence, you can do it, whether you're learning advanced cake baking techniques or trying to learn a foreign language.
Don't Limit Yourself
There are many ways you can relax after work as you can see. But however you're hoping to relax, it's important not to limit yourself. You can certainly spend your time on the couch, relaxing, eating snacks, and watching TV. But you can also see what's out there in the big wide world and open yourself up to new experiences. So, visit that new restaurant. Take that trip you've always wanted. Take time to socialize and meet new people. The world is your oyster.