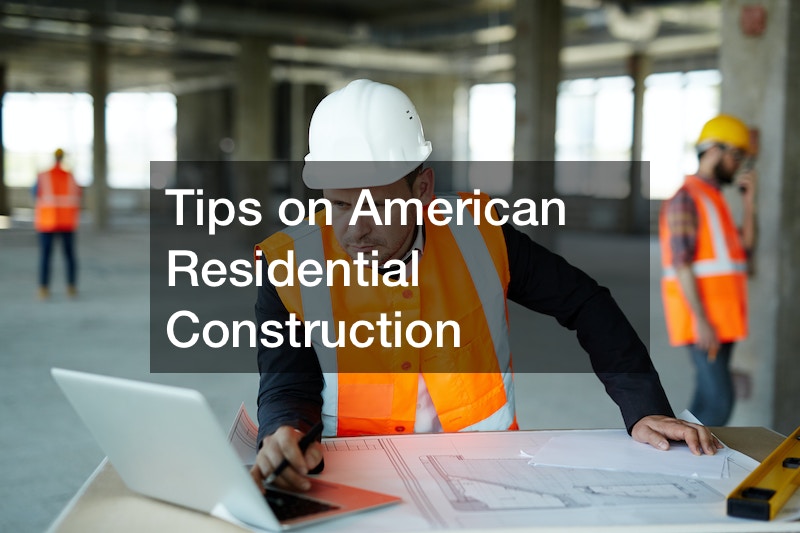 Despite the 2020 COVID-19 pandemic, the American residential construction industry grew and expanded, hitting 881 billion dollars, according to a report by Statista. Statista predicts that the market will hit $1 trillion by 2026. Spending on residential construction also continues to rise.
Therefore, the American residential construction sector is a good bet if you invest in the building and construction industry. Not only is the spending and the market sizable, but so is labor. According to the U.S. Bureau of Labor and Statistics, the construction industry is a big employer and is expected to create 252,900 new job openings.
You can have construction start, and if you play your cards right, it can thrive and grow. However, you need to know some fundamentals about the industry that will keep you ahead of the competition. In this article, you'll learn top tips on American residential construction.
1. Pick a Specialty
Sometimes, it makes sense to be a general constructor to increase your chances of getting a contract. However, choosing a specialty might be the strategy that puts you ahead and gives your start-up the focus it needs to thrive. The residential construction market is diverse and deep, so you can choose a specialty such as single-family homes, condominiums, hotels, townhouses, and assisted living facilities.
Choosing a specialty has multiple benefits for your business, especially if you are starting. You don't have to over-specialize, but you can have a core competency and then choose other services you can add. For example, your specialty can be assisted living facility construction, but you should also consult about senior living home improvements.
Here are the top five benefits of choosing a specialty in the residential construction industry.
You can easily achieve an expert status after doing a few projects in the same sector.
You can easily promote your business to the right audience.
You can give a better value proposition than a business that generalizes in your sector.
You'll learn faster because you can dedicate time and attention to one or two specialties.
You'll get to have better networks with players in your sector.
When it comes to the American residential construction industry, don't be a Jack or Jill of all trades and master of none. Specialize. Be an expert. Stand out.
2. Find Trusted Contractors to Work With
Construction is quite a complex process that requires professionals from different fields. You might even work with social media influencers to market your business. While some big construction companies employ all these different types of professionals under one roof, it would be best if you find trusted contractors to work with.
Depending on your specialty, you'll need a diverse pool of professionals to complete a construction project. Sometimes you'll work with a company such as a plumbing company and other times with independent contractors such as electricians.
According to the U.S. Bureau of Statistics, here are the professionals you're likely to work with at different phases of the project.
Carpenters
Construction equipment operators
Electricians
Ironworkers
Construction Inspectors
Painters & Plumbers
If you're starting, you can ask for recommendations from peers in the industry. Local hardware stores might also have contact with excellent contractors in the field. For example, if you need an HVAC contractor, a supplier of HVAC equipment might be a good place to start.
3. Prep the Property
Now that you've specialized and landed your contract, prepare the property. It might seem obvious, but some contractors pay less attention to property preparation and jump to the foundation-setting step. Be a thorough constructor by following through the steps of property preparation.
According to Gokce Capital, a site preparation process will take between one and two months. A typical site preparation follows the following steps.
Site Clearing: You might need to call a tree removal company to help with clearing.
Site Surveying: A site survey will outline where fixtures, utilities, and structures will be located on the property.
Soil Testing: It will reveal if the soil is strong enough to hold the weight of the building.
Preparation of a site plan: You might need up-to-date software for site planning.
Soil Compaction: It helps prepare the site for holding the weight of the foundation.
While it may seem cheaper to rush through the site preparation process, proper site preparation will save you costs and help build a robust reputation as a thorough constructor. Here are other benefits of site preparation:
Site preparation will ease access to the property.
Reduced damage to underground fixtures and structures.
Prepping the property will remove obvious obstructions such as debris and fallen trees.
Excavation and land grading will be easier after site preparation.
Site preparation will increase project longevity.
4. Maintain Your Equipment
For any American residential construction industry player, construction equipment can make or break your project. The last thing you need is a major piece of equipment breaking down because someone didn't maintain the circular saw lubricant system. According to data from Plant Engineering, 9% of unexpected machine downtimes are because of a lack of time for maintenance, while 34% are caused by aging equipment.
There are different approaches to maintenance you can use for your equipment. Safety Culture highlights the following four main approaches used in most industries.
Planned Maintenance: It's scheduled as per need and often needs a specialist to do checks.
Predictive Maintenance: Uses multiple approaches to predict when a machine will need maintenance.
Routine Maintenance: It's done to identify existing issues and correct them before they cause real damage.
Corrective Maintenance: It happens after routine maintenance, and it's done to restore functionality.
It will often seem expensive and unnecessary to perform maintenance, especially when your budget is lean. Yet machine failure will lead to more downtime costs and damage your reputation as a trustworthy construction firm. The American residential construction industry may be massive, but it's also very competitive. Regular maintenance will keep you from falling off the wagon as an unreliable.
5. Have a Storage and Transport System for Your Equipment
Your equipment will also need a safe storage and transport system. Your maintenance costs will reduce if you have an appropriate storage system that doesn't deteriorate your equipment. Your trailer parts might also last longer if they are moved safely. Here are factors to consider when choosing a storage system for your equipment.
Security: Will your equipment be safe from break-ins? Does the system have a monitoring capacity?
Size: Can the system handle the size of your equipment without strain?
Durability: Can the system support heavy equipment for an extended time?
Ease of Access: Can you easily access your equipment when you need it?
Cost: Does the storage system meet your budget considerations?
When choosing a transport system for your equipment, ask the following questions.
Sometimes speed trumps cost, is the transport system fast enough for your needs.
Does the transport system comply with freight regulations?
How reliable is the transport system? Is it easily affected by weather conditions?
How safe will your equipment be during transit?
6. Don't Forget the Exterior
Once you begin construction, your core focus will be on the interiors where the client will likely spend their waking time. Yet you could stand out and offer more value by deliberately thinking about the exteriors. The exteriors matter just as much. Depending on the type of residential project you're undertaking, here are some fixtures and additions you can consider with your client.
The driveway is the first thing people will see when they arrive at a residential property. According to Bob Villa, a standard driveway should be less than 15% grade. You can consult with the client to ensure you use their preferred style, elegant or classic.
The client may also be interested in a deck or patio. Many builders put a deck as an afterthought. However, discuss with the client before the project begins on potential deck ideas. A local deck service provider can guide you on styles that match the client's taste. Alternatively, a patio is an excellent way to add more entertaining space. You can design it in all weather so the client can enjoy it all year round. It will also make the exterior appealing.
When considering exteriors, keep landscaping in mind even before the project begins. Proper planning allows you to hand over the project when the grass is grown and the potted plants thrive.
7. Prevent Leaks
One of the values you can give your client is ensuring efficiency and minimizing waste. As the overall contractor in the American residential construction industry, you are in the best position to ensure the residential unit doesn't have leaks that lead to water wastage. You can work with the plumbing and roofing contractors to do a stellar job.
According to the EPA, household leaks in America alone amount to about an estimated 1 trillion gallons of water needed for 11 million homes per year. You'll be a responsible contractor if you can help your client minimize leaks and save them on water bills.
Leaks may also come from the roof because of poor installation or maintenance. Work with a qualified contractor who does gutter installation so that water drains properly. Good drainage will not only prevent leakages but also ensure the roof's longevity.
8. Think About the Small Details
The American residential construction industry is quite competitive. If you want to stand out, think about the small details. Small things like floor tiles and side rails can make a home more functional and aesthetically pleasing. Here are some small details you can incorporate when constructing a residential unit.
The outlets don't seem that important, but they are essential to a properly functioning home. Builders often forget to place power outlets in places such as garages, home offices, and the kitchen for powering equipment and charging electronics.
Be sure to include a lot of lighting options. While you should still install overhead lighting in every room, many homeowners prefer floor lamps or sconces, so be sure to include enough outlets to accommodate that. People also like above-mirror lights, under-cabinet lighting, and even lights in their closets.
9. Make the Property Accessible
Site preparation will make the property accessible for your laborers and equipment. Yet you may need to redefine accessibility for your client. Your client may want a functional door, but aesthetics also matter. You could consider adding rails, automatic door operators, and driveway lighting to improve accessibility.
Here are other ways to increase accessibility in the property.
Clear the driveway from debris and construction waste.
Add dumbwaiters if the building has more than one floor.
Add elevators in buildings with more than one floor.
Have an emergency door in case of an unexpected event.
When considering doors for the property, consider the following factors.
Placement: Where will the door be used? At the gate? Garage? House front?
Style & Design: A heavy aluminum door might be unsuitable if your interior style is classic.
Durability-You may sacrifice durability for another benefit, such as aesthetics, but durability is an essential factor to consider.
User's Needs- If you are constructing an assisted living facility, you may need to improve access, for example, using rails and automation.
The American residential construction industry is at an all-time high. If you have been looking to start a firm in the sector, now is the best time. You now have the top tips for succeeding in the industry. You can rise above the competition and establish yourself as an authority in residential construction.
Sometimes, small but strategic practices differentiate successful start-ups from struggling ones. For example, you may not have many contracts when beginning as a specialty, but soon you gain expert status, and clients come looking for you. Now all you need is to apply these tips to American residential construction and watch as your construction firm grows.