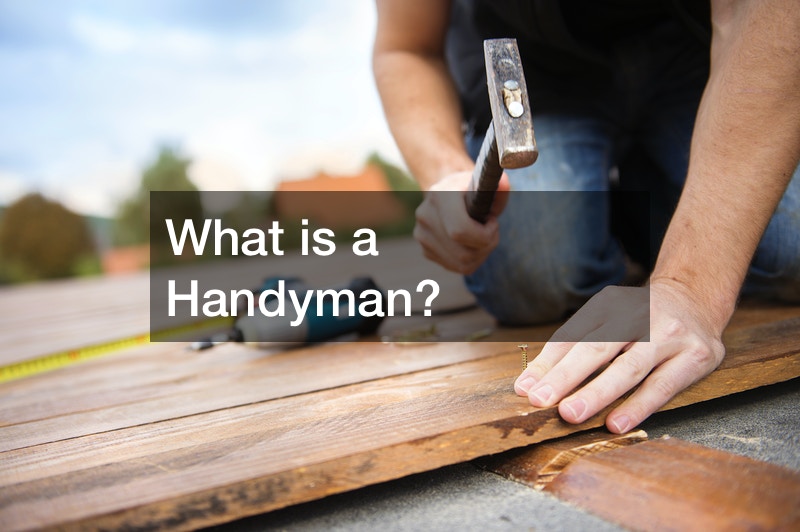 Picture this: you wake up one morning and find that your kitchen sink is leaking. You have no clue how this happened or how to fix it. So, what are you supposed to do? Let the issue go on and hope it fixes itself?
If you have an issue that needs to be fixed, you should call a handyman right away. A handyman will fix this issue for you and help you identify what happened in the first place. There's so much to know about a handyman, though. Where do you even begin? Here are some key things to know about a handyman and how they'll help make your home great.
What is a Handyman?
A handyman is a skilled worker who knows how to repair a number of things found around the house. They typically have knowledge of a number of things, including plumbing and home maintenance. A handyman is good with their hands, knows how to diagnose an issue, and is a professional at fixing it up.
What Does a Handyman's Job Entail?
A handyman is responsible for repairing things around the home. They identify where things are broken and use their tools to repair them. Handymen work in a variety of settings. They could be contractors, which means they work for themselves, or they could work for a company that contracts their work. They can also work in apartment buildings and within businesses to ensure things run smoothly.
While a handyman is skilled in repair, there may be some bigger projects that they can consult on, but may not be able to fix. For instance, if you find that a light in your home isn't working, you can call a handyman to see what's going on. The handyman comes to your home and finds that the reason why the light isn't turning on is because of a larger electrical issue. Your handyman may not have the license or the experience to fix a large electrical issue, so they may suggest that you find an electrician to fix the issue. Part of a handyman's job is to provide a service that solves a customer's problem, and sometimes that means admitting when they're out of their comfort zone and recommending an alternative solution.
What Are Key Skills a Handyman Has?
A handyman is skilled in repairing numerous things. If they're a handyman that specializes in home repairs, they'll know how to repair a wall, fix a leaky faucet, and unclog a drain. If they're a handyman at a large company, they may know how to make air duct system repairs or AC repairs. Most handymen also have math skills, as they need to take measurements and either add, subtract, multiply, or divide those measurements.
A handyman also has great communication skills. They should be clear about what the issue is, how they're going to repair it, and how long it'll take to make the repairs. A handyman should also have good time management skills, especially if they have multiple repairs to make for different clients. They don't want to spend too much time on one project and not enough time on another. These skills are incredibly valuable for a handyman to have and will help them succeed in their role.
How Does Someone Become a Handyman?
A handyman typically learns everything they know on the job. Typically, general handyman jobs are based more on hands-on experience rather than formal education. If someone wants to do basic home improvement repairs, they generally only need a high school diploma or equivalent. If they want to do more elaborate repairs to an electric system or HVAC system, they'll likely need some licensing. Handymen may also be able to take on an apprenticeship to gain experience or become a journeyman.
It's worth noting that the requirements to become a handyman differ from state to state, and there may be additional work to do depending on what the handyman wants to work in. That's why it's best to do your research thoroughly if you want to become a handyman.
How Has The Handyman Job Changed Over Time?
The handyman job has changed quite a bit over time. The handyman is actually believed to have evolved from the peddler. Peddlers used to go door to door and offer people their goods and services, and as a result, they'd pick up jobs around the house. Thus, the handyman was born.
The handyman is typically thought of as a jack of all trades. They can repair any issue that comes up and have all the right tools to fix them. While handymen are generally good at multiple things and don't necessarily require secondary education, many handymen have decided to get licensed in multiple areas of home improvement and building repair to expand their services. Getting licensed also shows clients that a handyman knows what they're doing and gives them more credibility in their occupation.
When is it Time to Call a Handyman?
There are key signs that indicate it's time to call a handyman, no matter what you need to be done in your building. Some of the most obvious ones for residential spaces include holes or severe dents in the walls, a clogged or broken drain, or water damage in the ceiling. Other things to look for include a clogged garbage disposal and a leaking dishwasher.
The key is to call a handyman before these issues become worse. Sometimes, people wait until there's substantial damage to the impacted area before they call a handyman. However, if you wait that long, the damage may be at the point of no return. If you suspect there's damage in your home or in your building, check it out right away. If your suspicions are confirmed, call a handyman right away to get it fixed.
Even if you think there's no damage, it wouldn't hurt to get an expert's opinion. Don't be afraid to call a handyman and ask if they can do a consultation. It's better to be safe than sorry in these situations, especially if you're looking at expensive appliances and equipment. A good handyman will determine if repairs are needed and explain why or why not.
How Do You Find a Handyman?
There are multiple ways you can find a handyman. For starters, you can search online. You can search "handyman near me" or "best handyman near me" to find a list of handymen in your area. Then, you can check out their websites, read reviews, and determine which one is best for your repair needs. For instance, if you own a flower shop and suspect there's a leak, you can see if there's a handyman in your area who has worked with flower shops in the past.
You can also read reviews about the handyman's services online. These reviews are incredibly important since they give you insight into how the handyman works and what quality of work they do. Another thing you can do is ask people in your circle if they know any good handymen. It's good to ask your friends and family because you can trust their reviews. They can give you specifics about how the handyman was in terms of demeanor and quality of service.
You can also use more traditional means to find a handyman. You can look in the newspaper and on bulletin boards across town to see if any handyman ads are displayed. There may also be fliers hanging up at local businesses around town.
What Can You Expect From a Handyman?
You can expect a handyman to repair the things you need to be fixed. They will come into your establishment or home, evaluate what the issue is, and determine what the best repair option is. They may be able to repair the issue right then and there, or they may take some time to gather the necessary materials and tools and come back at another time. If you have questions about the timeline of your repair, your handyman should be able to answer them. Communication is part of their job, after all.
While handymen tend to know a lot about making repairs, remember that they may not have the answer to everything right away. For instance, if you call about a sink repair and then ask them to take a look at your roof, they may not have all the answers right away. They may do some research and get back to you, or refer you to a roofing expert if they can't answer your question. While it's their job to make repairs, some bigger projects may be beyond their scope, which is okay. Even if it's something they don't feel comfortable repairing, they can help you find a solution to your bigger repair needs.
What Questions May You Have For a Handyman?
It's completely normal to have questions for a handyman. Some initial questions you have may regard their services and their pricing. You'll likely ask what kinds of services they provide, how fast they can get the services done, and at what cost. If their cost is out of your budget, but you really need the repairs done, you could ask them if they have payment plan options.
You may also have questions about the specifics of their services. You may ask what repair they're making, why they're making it, and what caused it to break in the first place. You can also ask what you can do to prevent this from happening again.
If you want to list your home for sale, you can also ask if your handyman has any suggestions for home improvements. They may take a quick tour of your home and let you know if there's anything that needs to be addressed before potential buyers come walking through. If they see anything, they'll let you know. If it's something they can fix, they may even schedule another repair job right on the spot so you can put it on your schedule.
How Can You Make a Handyman's Job Easier?
One of the most important things you can do to make a handyman's job easier is to give a detailed description of what's broken. If you just say "my sink is broken," it doesn't provide the handyman with much information. Instead, you could say, "my sink has been leaking water for the last two days, and I hear a consistent drip coming from underneath the sink." This gives the handyman much more information, which allows them to diagnose the issue, think about ways to fix it, and gather the right tools to bring along.
Another thing you can do to make a handyman's job easier is to clear your space of distraction. If a handyman is visiting your home, try to keep your home clean and clutter-free so they don't trip over anything. Also, try to keep your pets and kids away from the area the handyman is repairing. This keeps everyone safe and gives the handyman a space to get their work done undisturbed. You can also let the handyman know where they can find important home features such as the main water shut-off valve and the circuit breaker. That way, they don't have to keep running back and forth to ask you questions about where important things are. A final thing to let your handyman know is if you're doing any renovations, such as a bathroom remodel. This will let them know if something truly needs to be repaired, or if it will be repaired during the remodel.
There's a lot to know when it comes to handymen. They do an important job and work on things that are essential for your space. The more you know about what a handyman is, what they do, and what you can do to make their job easier, the smoother the process will be for all the people involved.