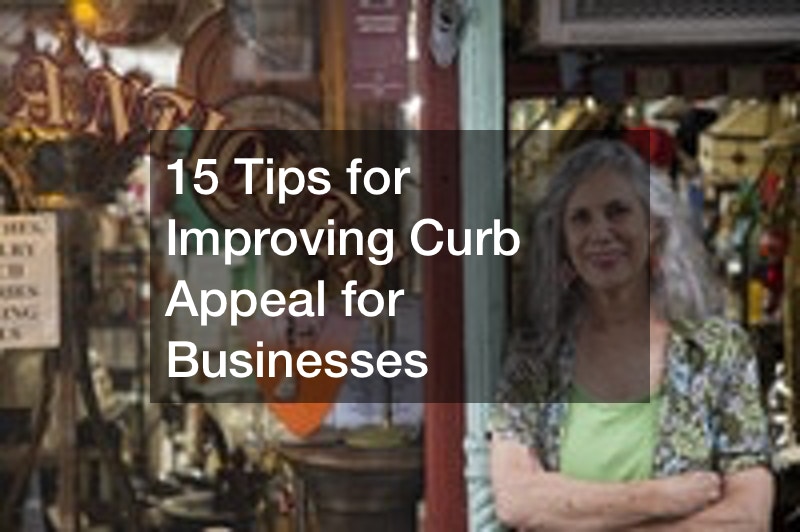 We often hear about how important curb appeal is for homes, but we do not address the importance of curb appeal for businesses. Curb appeal for businesses is an important topic that every business owner should be paying attention to.
The right curb appeal for businesses makes the right impression on current and future customers. There are some simple steps for making the curb appeal of your business inviting.
What Impression Are You Making?
What your business looks like from the outside can invoke ideas about what your business does on the inside. When customers or clients show up at your door, what impression are they getting about your business?
Curb appeal for businesses can convey a wide variety of unspoken messages to visitors, including:
What kind of details your business pays attention to. Curb appeal for businesses can convey the idea that your business pays attention to every detail.
How successful your business is. People trust successful businesses. Does your curb appeal convey that your business is doing well?
This business is worth learning more about. Curb appeal for businesses that are inviting will pique curiosity about your business.
Some simple changes can ramp up your curb appeal's value and send the right message about your business. First impressions are tough to undo. Making sure you are making the right impression starts with these tips for improving curb appeal for businesses.
The Number One Reason You Should Be Worried About Curb Appeal
There are plenty of reasons you want to make the right impression with curb appeal, but there is one reason that stands out from all the rest. Curb appeal is the way you get the attention of potential new customers.
Yes, of course, you want to keep the customers that you have already earned happy, but any business, regardless of the industry, relies heavily on that new customers. With the right curb appeal, you do not have to do anything more than be open when a potential customer walks or drives by your business.
For retail stores, getting the attention of foot traffic is still one of the best ways to sell. It is estimated that 54% of all sales made in retail locations came directly from foot traffic. The goal is to get those people that are passing by to come into the store.
Studies indicate that about 70% of sales are directly related to curb appeal. Consumers are driven by what they see on the outside to come inside and make a buying decision on the spot. Curb appeal is vitally important for small business owners to drive new sales.
Even the big brands know that curb appeal matters when it comes to driving new business. If your building lacks curb appeal, you miss out on some big opportunities to meet new customers.
Tip Number One: The Basics
Before we get to the nitty-gritty of how to improve curb appeal for businesses, let's take a minute to look at the overall condition of the building. Is there still evidence of the storm damage that you sustained last year? A quick once over of the actual structure and making any necessary repairs is the first step in changing your business's perception from the road.
If you are dealing with erosion issues, you may want to look up at your roof. Are there gutters and properly placed downspouts? If not, call a trusted commercial roofing company and get that repaired right away.
Have the roofing company install gutter guards to make less maintenance work for you. It's a simple solution that can help to ensure your gutters are always highly functional.
Tip Number Two: Add Landscaping For Some Wow Factor
Landscaping is vital to curb appeal for businesses. A clear path to the entry doors that is not overrun with debris from trees, overgrown grasses, and a sad landscape is a must. A nicely landscaped area in front of the building sends the right message to visitors.
Invest in a tree service to help keep trees nicely trimmed and healthy. A tree service can also help keep liability down by removing any branches that overhang the building or walkways. A beautiful green entryway is an easy way to ramp up curb appeal for businesses.
Even if you do not have a sprawling lawn in front of your business, make the most of the space you do have. Have a landscaper add flowering shrubs and flowers to hide unsightly foundations. A little pop of color here and there from flowers and flowering shrubs can easily highlight your curb appeal. Even a flower pot near the door filled with bright blooms can do the trick.
Tip Number Three: The Entrance To Your Business
Entry doors play a vital role in curb appeal for businesses. Doors should always be kept in good functioning shape, and they should be aesthetically pleasing. The doors to your business are one of the first things that welcome guests.
Sometimes, for security reasons, you have to opt for commercial metal doors. That does not mean you have to give up aesthetics. There are plenty of options when it comes to styling for commercial metal doors. You just need to ensure you choose the right supplier.
There are a wide range of custom doors installation options that can help elevate your curb appeal without compromising security. Choose your doors carefully and enjoy conveying the right message about your business.
Tip Number Four: Keep Your Parking Lot in Good Condition
Whether guests park behind the building or pull up in front, your parking area is the first thing they notice about your business. Keeping your parking lot in good condition is a must if you want the kind of curb appeal for businesses that make the right impression.
A little asphalt paving can go a long way in helping your business's parking area looking great. This is another way to reduce liability for your business. A parking area with potholes, cracked pavement, or broken pieces of pavement lying around is a recipe for disaster and a lawsuit.
Tip Number Five: Keep Sidewalks and Paths Clear
Snow, ice, and debris can all convey a negative message about your business. If you need to hire someone to clear away debris, snow, and ice from your sidewalks and pathways, do it. A clear path to your business encourages people to come in.
Keeping walkways clear is not only good for aesthetics, but it can reduce your liability. Slip and fall accidents account for about 26% of all injury lawsuits.
Tip Number Six: Add Signage
Signage is a great way to add some curb appeal. It is also a great way to brand your business. Adding signage that lets people know where you are is important for any business. Is your sign large enough? Is it attention-getting? Making changes to your signage is an easy way to add some curb appeal for businesses.
Tip Number Seven: Window Appeal
If your business is a shop, dress your windows to improve your curb appeal. Brightly decorated windows beckon foot traffic to take a closer look. Impact windows or shutters are a great option for businesses in storm areas or that need added security.
You can still dress these types of windows up, and you can rest easy knowing your business is protected. Sometimes curb appeal for businesses means incorporating things that help ensure business continuity after a storm or avoid break-ins.
Make sure you clean your windows regularly. There is nothing quite like dirty windows when it comes to making people pause before they enter your building. Clean windows at least once a week until they sparkle.
Tip Number Eight: Exterior Paint
You really cannot talk about curb appeal for businesses without mentioning the value of painting. You can instantly brighten up your business by painting the exterior. If painting the entire exterior is not possible, try just painting the trim. It will instantly brighten up space and give it that "cared for" look.
Paint is an inexpensive way to amp up curb appeal for businesses. Consider painting your front doors, window trim, overhangs, and more. You can even get creative with the colors you choose to tie them into your business.
Tip Number Nine: Add Some Strategically Placed Lighting
Lighting can play a big role in curb appeal for businesses. LED lighting options are abundant and are relatively inexpensive to purchase and operate. A simple string of LED lights over an awning, some pathway lights, and a lantern or two can make your business more inviting in the evening hours.
Adding exterior lighting can deliver that warm glow that is enticing to foot traffic. Place lighting so that it highlights your business.
Tip Number 10: Add a Welcome Mat
A welcome mat is an inexpensive way to let guests know you are glad they are there. Welcome mats are a simple addition that adds to curb appeal for businesses. You can purchase a top of the line commercial welcome mat for less than $100. It is well worth the investment. Not only does it welcome guests, but it helps to keep the foot traffic mess down as well.
Tip Number 11: Display Goods Outside
Use sidewalk space to grab the attention of foot traffic. Set up a display of clearance items right outside the door. It will encourage people to browse a bit and may lead them right into your shop. Curb appeal for businesses should have the primary goal of bringing in more business. What better way to get foot traffic into the store than giving them a snapshot of the sales inside?
Tip Number 12: Be a Helpful Neighbor
If your business is attached to another business, it can be hard to keep up your curb appeal for businesses when the front of their business is a mess. Be a good neighbor and offer to help them clean the sidewalk or improve their curb appeal. Maybe they really do not understand the value of keeping up on appearances. Offering to help can deliver the message in a nice way.
Tip Number 13: Hide Your Trash
Don't put trash cans in front of the building. Hide them out back, if possible. Trash in front of the building looks terrible, and in the heat of the summer can certainly add a stench that no one wants to deal with. Additionally, keeping your trash cans out of the publics' reach can also keep down your waste removal hassles.
Tip Number 14: Add a Bike Rack and a Place to Park Fido
If your business is heavily reliant on foot traffic, adding a place to park bikes and tie up dogs can be a very welcome addition and up the curb appeal for businesses for customers that ride their bikes or walk their dogs.
A bike rack does not take up much room and can easily be mounted on the sidewalk near the entrance. A place to tie out a dog while their human shops that include some water bowls are also a very welcome option for dog walkers.
Tip Number 15: Maintenance is Vital
After you have done all the things to improve curb appeal for businesses, the last thing you want is for something not to be welcoming on the inside of the building. If you are located in an elevator building make sure the elevator maintenance gets done. No matter how welcoming your curb appeal for businesses is, no guest will be happy with your business if they have to climb six floors.
Final Words About Curb Appeal For Businesses
There are just a few more things you can consider to improve your curb appeal. Is your building accessible to the handicapped? Can a wheelchair fit through your doors? Is your entryway well lit? Do you need to add some lighting to make things a bit brighter?
Taking the time to assess what consumers see from the curb and how they navigate your business can help you to increase traffic. Spending some time on improving your curb appeal can pay you back nicely.