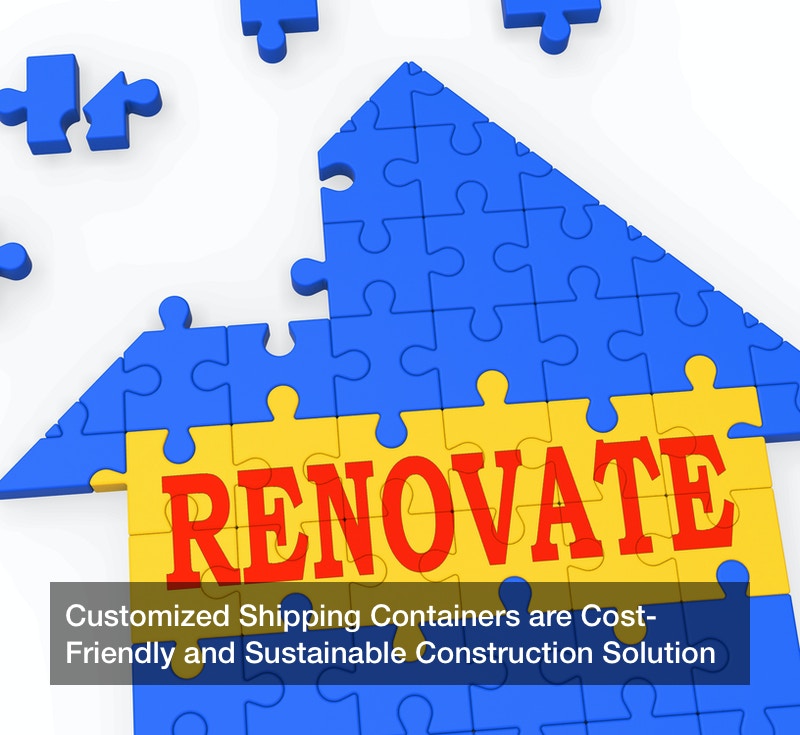 Shipping containers complete an important puzzle in any trading system around the world. They are used to store and transport different products from one point to another. However, not all of these containers are in practical use; out of the estimated 17 million shipping containers throughout the world, only about five million are into active shipping. This means that many shipping containers are just sitting idle, essentially serving as large blocks of unused steel boxes.

As a result, there has been an increased need for sustainable ways of recycling containers and making them useful again. Perhaps you're asking how? Well, there a number of ways a standard shipping container can be customized to offer you more functional living spaces. Essentially, a shipping container is made of prefabricated steel that can be easily modified to create an additional guest room, bedrooms, or storage room.

Custom shipping containers are becoming an ideal construction solution because of their range of applications. For homeowners, however, these units are particularly essential when converted into a studio. Nonetheless, the idea of having a shipping container studio in your backyard sounds appealing until you start thinking of the amount of work that goes into it. There's a lot of time and resources required to modify a shipping container and that's why it's important to work with an experienced company.

When choosing a company to work on your project, keep in mind that some companies specialize only in customizing shipping containers to the studio, while others are experienced to handle different types of modifications. Working with experts allows you to shoulder off some of the heavy tasks and ensure quality project completion. Here are some of the benefits of creating a shipping container studio.

1. Portability
Shipping containers are essentially built to be portable, which means that they can be relocated to any desired place without much inconvenience. Therefore, no additions need to be made to a house.

Different areas have unique zoning requirements and building codes so you must ensure your shipping container studio conforms to the standards by perhaps having it installed in your backyard or on an empty lot. The portability accorded by modified shipping containers gives you more options in terms of design and location.

2. Cost
Home improvement and addition projects are often rather expensive and even building something small like a shed in your backyard could attract great costs. That's why you need to consider building a studio off a recycled shipping container which only needs to be modified into a functional working space for your creative needs.

Of course, the cost of furnishing and adding accent decor is independent of the entire construction process, so this will vary depending on your style and space. You get to choose what to add in your studio — whether it's a carpet, couch or minimalist furniture
Also, remember that shipping containers go for different prices depending on factors such as size and condition. But since you're buying a second-hand product, it' should cost significantly less than the original price to make it cost viable.

The level of modification will determine the overall costs but it's generally cheaper to work on a shipping container compared to buying a fully built studio. You won't even have to focus on the dimensions anymore instead spend time choosing what to fill your space with.

3. Sustainable Building Solution
With the increased need for sustainable solutions in almost every part of human life, the construction industry hasn't been left behind. If you're looking to build a studio in your backyard, which is essentially a want than a need, it's important to consider a sustainable solution — and this is what recycling shipping containers really represents.

Customized shipping containers help to significantly reduce waste by providing additional spaces ideal for modern lifestyle needs such as having to work from home and need a quiet and comfortable working environment. Extra bedroom for guests and friends when they visit. So take advantage of unused shipping containers available and build yourself a nice studio right next to your house. However, shipping container studio isn't the only application for these steel boxes, you can try types of modification.