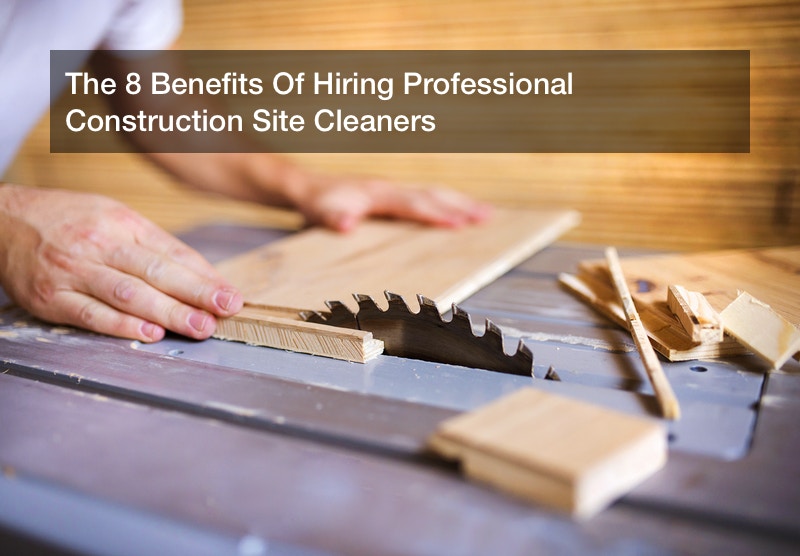 The Benefits of Hiring Professional Construction Site Cleaners
Construction can be a messy affair, and without the proper clean up services, your employees could be left cleaning up instead of helping guests and customers. If your business has just undergone construction, here are a few reasons you should leave the cleaning to professional construction site cleaners.
Doing Your Job. Hiring cleaning services frees you up to continue doing your job, without having to stress about cleaning up your office. Additionally, professional construction cleaning is best left to the pros, as they'll be able to deliver a deeper level of clean with high grade cleaning tools.
Quicker Clean Up. A dirty work space can easily get in the way of normal daily operations. To help prevent additional hang ups, you need professional construction site cleaners who can quickly pick up the mess. Construction site clean up crews have the experience to complete the task in as little time as possible, they can have your office back up and running in no time.
A Deeper Clean. Professionals are also capable of providing a deeper clean, and know how to properly clean each and every surface. They also know how to find even the most hard to find messes, and can leave your office cleaner than it's ever been.
Safety. Professional construction site cleaners know how to safely clean up any leftover construction debris. This means you won't have to worry about employees being hurt by nails, or other sharp items that may have been left behind, and if hurt on the job, your company may be liable for any injuries. To prevent this, professionals who know how to handle construction materials, should always be called in.
No Damage. If you're in a new construction, or just underwent a renovation, you don't want to risk damaging anything right off the bat. Some cleaning products may cause damage to certain surfaces, or new floors could be scratched by careless moving. Don't take the risk and let professional construction site cleaners take care of the process.
Cleaning Products. By hiring professionals you also don't have to worry about buying additional cleaning products or tools. This not only saves you money, but it prevents employees from having to work with potentially harmful chemicals. Professional cleans not only have their own cleaning products, but they know how to use them safely and correctly.
Proper Disposal. Proper waste disposal is something that many people don't know how to properly do. Regulations can vary between states, and if you fail to follow the guidelines your company could be fined. Professional construction site cleaners know how to properly dispose of any materials, meaning you won't have to worry about hauling materials to special sites on your own.
Saving Money. If you consider the time and money spent on cleaning yourself, hiring a professional service actually saves you money overall. It also allows you to get back to business quicker, and doesn't take away from your employees time.

If your business has just undergone a renovation, or if you've entered a new construction, don't waste time trying to clean up on your own. Professional construction site cleaners know how to properly handle any left over messes, and clean your office completely and safely. This gives you more time to spend on your business, and helps prevent both injury and potential fines.