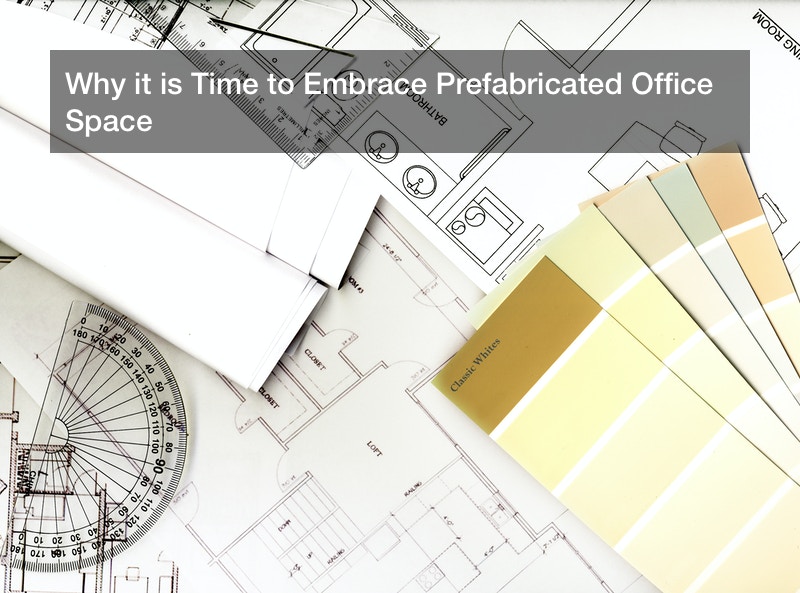 Prefabrication, which correlates with offsite modular construction, has been gaining popularity in the recent past. As the name suggests, the construction components are prepared prior, then brought to the actual building site. Building a structure, for instance, an office, is no easy fete. However, with prefabrication, it gets easier.
The building components are prepared in a better location, and once completed, the construction company will now deploy them to their respective owners. Once all the modular parts have been assembled, they can be set up to make prefabricated office space.
Where it All Began
Many may tend to think that prefabrication is a new idea, but they are mistaken. Prefabrication dates back to 3,800 BCE in England, with the first structure to be constructed using that principle being a renowned engineered road- the Sweet Track. Crystal Palace in London was also built similarly.
With time, prefabrication has gained popularity tremendously, being embraced even in residential construction. By the look of things, it is not a passing wave, but it is here to stay.
How Prefabrication Works
The idea of having a prefabricated office space is primarily interesting, but how does it work? Ideally, prefabrication entails the process of assembling various structural components at a separate manufacturing site, then transporting them to their designated construction sites upon completion.
Since many parts of construction are severally repeated, prefabrication proves to be cost-effective as compared to the traditional construction method. This is due to the benefits of economies of scale. Bulk transportation also slashes a significant percentage of transportation cost.
Benefits of Prefabrication
Although you have to sacrifice some level of flexibility in terms of design, prefabrication still comes with enormous benefits if implemented correctly. This holds to both the contractors as well as the stakeholders. It is important to note that even with the reduced design flexibility, you can do anything else, such are adjusting prefabricated office walls with ease.
Handles Labor Shortage
Contractors go through a difficult time while looking for labor. That notwithstanding, constructions must take place. On-site construction does not offer maximum labor productivity. On the other hand, prefabrication maximizes the productivity of the labor they have at hand, in turn, bridging the labor gap significantly.
It is Cost-Effective
A contractor has two options. The first one is transporting pre-production resources to the construction site. Alternatively, they can transport partial assemblies from the manufacturer to the site. Although you get the same results, if you conduct a cost analysis, the latter is more effective.
It Saves Time
Modular buildings can take half the time it would take the same office traditionally. Time being a precious asset, prefabricated offices and structures become the best option. If you are constructing a modular office, you can be sure to a faster return on investment as compared to traditional construction.
Quality Control
Ideally, construction materials are at risk of deteriorating if exposed to adverse weather conditions. However, for fabricated structures, they are manufactured and assembled indoors. The factory tools used also top up the quality assurance of the end product.
It is Environmental Friendly
On-site construction leaves behind a lot of debris, which is primarily environmental pollution. It also uses up a lot of water leading to wastage. On the other hand, prefabricated construction saves on water usage and is conducive to material recycling.
Security and Safety
During on-site construction, materials are more vulnerable to theft. However, with prefabricated and modular buildings, exposure to theft is minimum due to the short completion time.
Trends Impacting Prefabrication
There are several improvements in the construction industry that are encouraging prefabricated office space. They include:
Building Information Modelling
The modeling process allows designers to visualize an entire building through all its stages. It becomes easier to prefabricate a structure with its image in mind.
Lean Construction
Lean construction blends in perfectly with prefabrication, with most prefab structures being lean.
Besides the benefits we have mentioned above, modular structures enhance operations in any office. For instance, in case the need for expansion arises, it is more comfortable with in plant offices as compared to traditional ones. Prefabricated office space is also more comfortable to renovate or relocate without much disruption of business as usual.