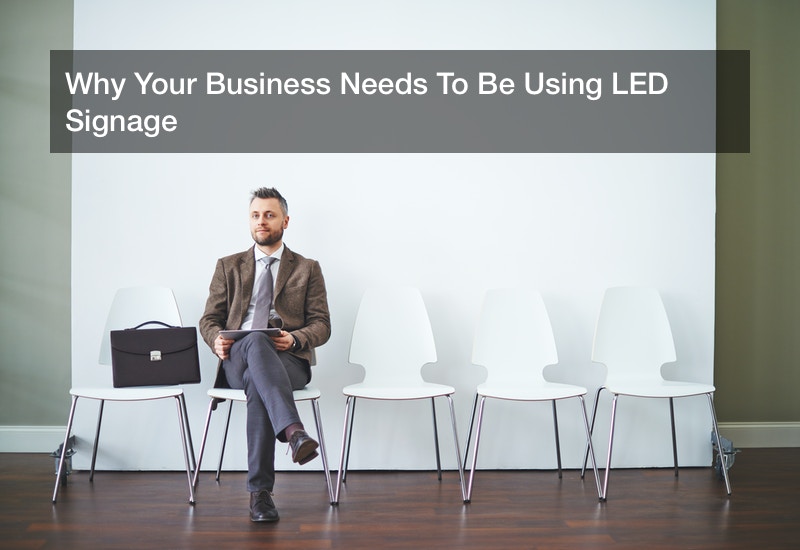 There's little doubt that the way Americans shop has changed significantly over the last 10-15 years.

Take the Christmas shopping season for example: It was once the tradition of many families to shop at large department stores and get everything they needed at a handful of places. Nowadays, customers can order whatever they desire online with a few clicks. In fact statistics have shown that 76% of U.S. consumers shop online as of 2016.

What does that mean for small business owners? For some of them it means that they have to go above and beyond to gain a customer's attention. The average consumer sees thousands of promotional messages a day, but they decide in only a matter of seconds whether they're interested. That might not seem fair, but customers are constantly bombarded with information and a lot of it (figuratively) goes in one ear and out the other.

One way a business can gain the attention of customers is with impressive signage, especially LED signage. It's been proven that signs are effective. Surveys have indicated that 35% of people wouldn't have discovered a business had it not been for its sign. But even if your business is super creative and has signage with the right message, right combination of colors, right images and a uncomplicated look, it may not be enough to make a customer stop and decide to peek inside your store.

LED lights can make that happen. This year alone, LEDs are estimated to achieve a 53% penetration of the global lighting market. Everywhere you look from school marquee signs to TVs to street lamps to church marquee signs, everyone is using LED lights to make their signs stand out.

They can have the same effect on LED lights for business as well. Thinking again of Christmas, this is one of the busiest shopping times of the year and LED signs for business definitely stand out and make people take notice.

The scientific benefits of LED lights are numerous: LED lights are long lasting with about 50,000 hours of life per bulb; they're eco-friendly and help businesses and everyday citizens lower their utility bills; they shine brighter because they convert nearly 100% of energy into light; they're very durable and they emit less heat than other types of lighting.

 
But perhaps more importantly to shop owners, LED signs for businesses are eye-catching and look fantastic. Imagine having an LED sign outside your store promoting all of your holiday deals inside. If a customer or group of customers is out and about and sees your sign, there's a good chance they'll stop in even if they had no intention of doing so.

Since LED lights are longer-lasting than other types of lighting, you won't have to worry about bulbs burning out quickly and changing your 'Happy Holidays' sign to one that reads 'appy olidays.' Poor lighting and burnt out bulbs can send the wrong message to customers and if you're trying to attract new business, first impressions mean a lot.

Another benefit of LED signs for business is that are more signage options available to businesses. When you use LED lights, you can use any color combination you desire along with movement, animations, flashes, color changes and anything else you can think of that will catch a customer's eye. That kind of versatility and creative factor can't be done with neon lighting or fluorescent lighting and LED lights can be programmed to do whatever you need them to, whether you're changing colors or using the lights to create your company's logo on a sign. Again, it's about grabbing a customer's attention and keeping it and LED signs for business can do just that.

Bottom line: if your business isn't using LED signs or LED lighting, it needs to be as soon as possible. LED lights hold up against all kinds of weather and conditions, so customers will be able to see your signage rain or shine. LED signage not only will make customers take notice, but it's a way your business can show off its creative side, especially during the Christmas season.